81 Best Soul Food Recipes
Soul food recipes – West Africa was the homeland of most Africans who arrived in America as enslaved people. These ancestors brought their culinary traditions with them to the Southern United States.
Soul food recipes history
This post is a curated experience of soul food recipes, their rich history, and their distinctive flavor profile. An integral taste that has shaped American food culture.
From sweet potato casserole, pies, and candied yams to how Black people prepare fried fish and Southern sweet tea.
West African traditions even influence today's elevated and intentional soul food vegan recipes.
Tender, juicy meats, flavorful gravies and sauces, and vegetables seasoned so deliciously that you forget they're good for you!
That's soul food – a legacy of Southern cooking the Black way.
Soul food recipes are a variety of comfort-food cuisines originating from African-American culture in the Southern United States.
It's traditionally a combination of African American foods derived from Black enslaved people's take on American and British cuisine, combined with the essence of West African warmth, flavors, and traditions.
What is the meaning of soul food?
'Soul' describes the swag and unique style of African-American cuisine. You know. The flavor.
Why do you call it soul food?
It's called soul food because of the Southern hospitality it's served with and the heart-centric feeling cooked into every dish.
An attribute akin to only Black people and how we cook, fashion, and create with style and swag.
The flavor is affectionately termed soul food.
What is Black soul food?
Soul food is closely connected to the cuisine of the Southern United States. Therefore, it's often considered synonymous with Southern food.
However, the true definition of soul food does not require Southern roots. Instead, soul food is simply a legacy of African American cooking. Black people's food.
What are traditional Black foods?
These soul food recipes! My best examples of soul food. Easy enough for anyone to make and everyone to love!
Want a thirty-minute investment for a soul food dinner idea?
Good, because you'll find contemporary cooking methods for classic soul food recipes. Here! -> on my niche blog, The Soul Food Pot.
So any time someone asks the question, "What exactly is soul food?"
Tell them to start here!
Easy soul food recipes
What's the difference between soul food and Southern food?
Soul food and Southern are often compared.
But it's enslaved African Americans who developed soul food's distinct character by creating outstanding meals from what was thought to be less-than-desirable cuts of meat and produce.
What foods did enslaved Africans bring to America?
When West Africans were forced into slavery, their White captors also took from Africa what's known today as some of America's favorite foods.
From okra, peppers, watermelon, yams, and black-eyed peas.
They also brought the kola nut – one of the main ingredients in Coca-Cola. West Africans used to chew this nut for its caffeine.
What is Southern American comfort food?
Southern food can be described as down South, home-cooked comfort food recipes where you can taste the hospitality.
What is considered Southern comfort food?
Examples of Southern comfort food include meatloaf, casseroles, warm cabbage recipes, puddings, smothered meat, and pies.
After a weeknight rotisserie dinner, why not bake up a comforting Southern chicken pot pie?
How do you make Southern comfort food chicken pot pie?
Easily! The answer is in this recipe HERE!
Soul food or Southern food?
Soul food is all of the above with that additional essential attribute discussed above. The flavor.
Why is soul food so good?
Seasoning to perfection. That's what soul food is all about.
So what is a classic Southern dinner?
What do you serve at a Southern dinner party?
How do soul food recipes represent Black culture

?
What is a typical soul food meal?
What is soul food Sunday?
Soul food Sundays are a heartwarming family union in Black American households.
A time-honored tradition of gathering around the family table to catch up on each other's lives and enjoy favorite African-American foods from pork chops to fried chicken!
It's Black people's food. Soul food for Sunday dinner.
What is a good soul food Sunday dinner?
And what are the best soul food recipes for Sunday dinner? Check out this tried and true list of authentic soul food Sunday dinner ideas!
Ready to take your recipes beyond Southern?
You're in the right place for the best soul food recipes and Black people's food.
Main dish soul food recipes
What meat goes with greens and cornbread?
You can serve soul food favorite side dishes greens and cornbread, with any of these main dish soul food recipes listed below!
What can you have instead of pot roast dinner?
How do you get grits super creamy?
I like using an Instant Pot when cooking this shrimp and grits recipe because it makes the cooking time and temperature for rice, grains, porridge, and grits easy and effortless.
It's just a drop in the pot for soft fluffy grits every time!
I like to use and recommend Bob's Red Mill white corn grits/polenta.
What makes a food smothered?
Smothering food is a cooking technique commonly used in Louisiana's Cajun and Creole cuisines.
It involves cooking in a covered pot or pan with liquid, often regarded as a form of stove-top braising.
Smothered dishes are commonly served with gravy, broth, or sauce, "smothering" the food.
What is the most popular African American food?
Chicken, especially fried chicken, is a food thrown on the doorsteps of Black people as a way to identify us.
But, of course, you know, African Americans didn't invent the chicken!
We just perfected seasoning it!
That's how soul food Southern fried chicken became arguably the most popular of the many soul food recipes.
Black people do indeed have a proud legacy of making chicken – fried chicken, BBQ chicken, baked chicken, air-fried chicken.
Perfectly seasoned to perfection. That's the soul food way!
The answer is soul food Southern fried chicken. A recipe that Black folks created and perfected!
What makes this recipe so special?
When it comes to Soul food Southern fried chicken, there's no denying that chicken with a balance of flavorful, tender meat on the inside and crispy seasoning on the outside is a soul food recipe specialty.
At what temperature do you cook soul food fried chicken?
The temperature to maintain the hot oil when deep-frying this Black folks' soul food Southern fried chicken recipe is 350 degrees F.
What else can you use to season the flour?
Other than a sprinkle of salt and pepper, some Southern fried chicken recipes even call for cornstarch to thicken the batter for extra crunch. Or hot sauce for more heat!
Do air fryers work for soul food Southern fried chicken?
I'd be remiss if I didn't mention using an air fryer to make this Black folks' soul food Southern fried chicken recipe.
Air fryer chicken is a healthy and crispy alternative to deep-fried chicken. You can eat healthier while still getting that crispy Southern fried chicken taste and texture!
Side dish soul food recipes
What is considered a side dish?
Side dishes are curated enhancements to accompany the stars of any entrée or meal.
Soul food sides usually feature traditional Southern soul food classics. The ones you'd find on any soul food menu.
What is a good side dish to go with fried chicken?
Starting with soul food side dish favorite – soul food Southern baked mac and cheese.
What are some soul food sides?
Check out this list of the best soul food recipe sides that put tangible food answers to these common soul food recipe questions:
What goes good with chicken thighs? What should you serve with a whole chicken? Or what goes with chicken and dumplings for dinner?
Do you have to make collards with pork fat?
Meats like pork can intensely flavor collard greens.
But if you don't want to use pork, you can add turkey legs, smoked turkey wings, or neck bones also work similarly to ham hocks.
These alternatives will produce the same depth of flavor profile for your Southern soul food flavored collard greens!
What main dish goes with collard greens?
Collard greens are the darling delectable food of the South. Meaning you can pair this side dish with almost anything! Including your choice from the beautiful soul food main dish recipes listed above!
What's special about Black America's potato salad?
Soul food is all about seasoning to perfection. The flavor!
The same holds true for a Black folks' soul food potato salad recipe.
How long can you actually leave potato salad out?
Because it's a moist recipe made with eggs, potato salad should be refrigerated overnight.
However, it can be left out for several hours at room temperature without going bad.
Soul food cornbread recipes
Beverage soul food recipes
Dessert soul food recipes
How did a traditional English country dish come to be one of the most beloved soul food recipes and Southern dishes?
Banana pudding has a Southern identity that stretches back over half a century.
Black Southern banana pudding is an elevated version of the Americanized English trifle.
African-American cooks in the South reimagined this layered homemade custard dish to perfection!
Soul food recipes FAQs
What are the most popular soul food dishes?
While soul food recipes may be accredited to the Southern US states, it's loved everywhere! With popular and best-known favorites being:
Soul food secrets
What seasonings do African Americans use?
Soul food recipes rule number one: Always season your meat!
Even if you're going to use a sauce – first season the meat!
Favorite soul food sauces and seasonings include:
Paprika

Mustard seed

Garlic powder

Onion powder

Red chili pepper

Cinnamon

Nutmeg

Celery seed

Curry powder

Salt

Black pepper

Worcestershire sauce

BBQ sauce

Hot sauce
What is soul food month?
National Soul Food Month is every year in June. A month steeped in Black culture and history recognizing Black food, Black music, and of course, Juneteenth.
What do you eat during Black History Month?
You can enjoy notable recipes like fried fish, collard green recipes, cornbread, baked macaroni and cheese, chicken and dressing, sweet potato pie, and banana pudding. Just to name a few soul food recipe favorites.
These recipes are part of the authentic soul food family. Recipes passed along through generations and a legacy of African Americans.
Who invented soul food?
The term "soul food" may have first been used in the 1960s during the civil rights movement.
In 1962, Sylvia Woods opened her iconic soul food restaurant Sylvia's, in Harlem, NY.
Sylvia is known by many people today as "the queen of soul food."
Why is Black culture food important?
Soul food has a rich and flavorful history that ties Black culture to its African roots.
That history is deeply reflected through soul food recipes. Black people's food.
In the 1940s, soul food restaurants appeared in every large American city with a sizeable Black population, attracting a diverse clientele with their flavorful and culturally rich foods.
What cities have the best soul food restaurants?
Some of the most famous soul food restaurants are:
St Louis, MO –

Sweetie Pie's

restaurant

Los Angeles, CA –

Roscoe's Chicken And Waffles

Harlem, NY –

Sylvia's

Las Vegas, NV – Marcus Samuelsson's Streetbird
What cities have the best soul food scene?
New Orleans is famous for its iconic soul food gumbo, while Atlanta is recognized for anything peach.
States also have specific soul foods that they are famous for.
How can you get started making soul food recipes at home?
After looking at the Black people food favorites list above, you might think everything looks and sounds so good, but where do I start?
When it comes to Black people's food, the current generation is often asked:
"How can you spend so much time helping your elders with food preparation without learning the specific recipes?"
This is why I'm committed to archiving and sharing our ancestor's classic soul food recipes. Black people's food and African-American cuisine!
Thanks to Instant Pot, most of these recipes are made to order in a fraction of the traditional time without compromising the authentic soul food flavors or ingredients.
Love easy Instant Pot recipes?
Now you can enjoy iconic African-American soul food recipes (Black folks' food) reimagined via Instant Pot.
Whether you're a Black person (or not). These soul food recipes are easy enough for anyone to make and everyone to love!
For Black people, White people, Green people, Blue people…
With Instant Pot, you can magically make classic Black food recipes and modern variations of healthy food like vegetarian and vegan soul food in a matter of minutes!
Soul Food Recipes + Instant Pot = MAGIC!
With so many African American recipes, which one will you try first?
What do you think of these soul food recipes?
Have you had it?
Would you make it?
Comment below and lemme know.
Then subscribe HERE for all the soul food!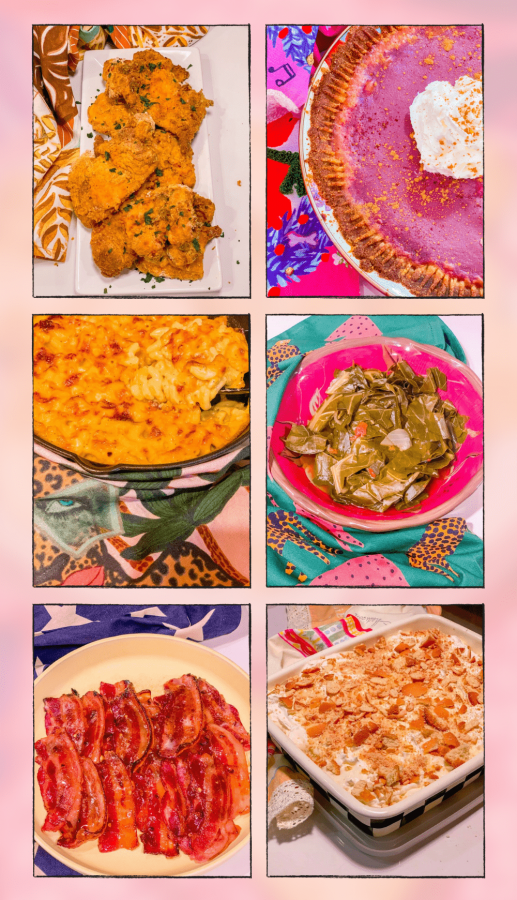 "The entire passion that I have about this is to use food as a tool to elevate the conversation about what it means to be African-American and to cook African American food… It's a celebration. We're celebrating our food!"
—Toni Tipton-Martin (High On The Hog, Netflix history of soul food)