9 Best Black Folks Soul Food Cornbread Dressing Recipes
What is a Black folks' soul food dressing recipe?
There's nothing like the classic, savory flavor of a Black folks' soul food cornbread dressing recipe!
It's a dish that's survived slavery, segregation, poverty, and everything else this country has thrown at the Black community.
Cornbread dressing with the addition of shredded baked chicken, turkey, oysters, savory seasonings, or sweet corn and heavy whipping cream. Just add butter, cornbread, celery, onion, thyme, chicken stock, parsley, and an egg – yum!
Black folks' cornbread dressing comes in a few varieties to please even the most discerning pallets. Soul food dressing is a simple, delicious, hearty meal. An African American staple that's made its way into many homes and generations across the country.
What's the difference between Southern cornbread stuffing and dressing?
Stuffing and dressing are terms for a dish made with bread, usually cornbread in the Southern United States.
Stuffing is baked inside the turkey or bird during the cooking process.
The dressing is baked on its own and served as a main entree or side dish.
9 best African American cornbread dressing recipes
If you're a Black person living in the South, then there's a good chance you've had your fair share of dressing.
These homemade soul food dressing recipes are not just for Thanksgiving; they're all-year-round dishes that we crave every single day!
Black folks cornbread dressing recipe
This Southern dish is made of fluffy cornbread, fresh herbs, and veggies cooked with plenty of butter, broth, and egg.
Black folks chicken and dressing
This is a divine shredded chicken and cornbread stuffing casserole. A yummy soul food recipe that serves justice to the African American community!
Black Folks Chicken And Dressing
Thanksgiving means Southern soul food, made by our grandmamas, mamas, and favorite aunties. A meal we've waited all year to eat!
One Southern dish that you shouldn't miss this Thanksgiving is Black folks chicken and dressing.
Check out this recipe!
Southern cornbread dressing with chicken gizzards
Does your family have a chicken and dressing or stuffing recipe that passes down from one generational table to the next?
Black folks Southern oyster dressing recipe
Oyster dressing is one of the most unique and delicious soul food recipes. The perfect side dish to show up at your next holiday gathering.
Southern cornbread dressing
Old-fashioned cornbread dressing is high on the list of comfort foods. It pairs well with turkey, chicken, or pork!
It's a holiday staple, although it should be in the rotation all year!
Southern chicken and dressing
This cornbread chicken and dressing recipe is an old-fashioned comfort food generously flecked with herbs and spices like thyme, rosemary, and sage.
Southern Chicken And Dressing
There's a reason why Southern chicken and dressing is a holiday tradition. It's tender, moist, and packed full of flavor.
There's nothing quite like it. And while lots of homemade Southern dressing recipes have weighed in on this debate, we're pretty sure ours trumps them all!
Check out this recipe!
Old fashioned Thanksgiving dressing recipe
Traditions, family, and food are the hallmarks of Thanksgiving. And in good tradition, a Thanksgiving dinner table is incomplete without an old-fashioned Thanksgiving dressing recipe.
Black folks creamed corn pudding
Made from the highest quality ingredients available – buttery homemade cornbread, fresh sour cream laden with melt-in-your-mouth Parmesan cheese!
Black folks chicken salad recipe
While this recipe isn't made with cornbread, cornbread is often served with it.
And some folks refer to soul food chicken salad recipes as dressings because they're so flavorful and delicious!
Homemade cornbread or cornbread mix?
Can you use Jiffy cornbread?
Yes! You can go for a cornbread mix for any of these Black folks' soul food dressing recipes. Especially if you're short on time.
And you won't even have to worry about any compromise to the Southern soul food flavors your family has come to expect!
If you prefer to make any of these soul food dressing recipes with cornbread from scratch, check out this Black folks skillet cornbread recipe HERE!
Why do you need stale cornbread?
Some people prefer their dressing to be drier and crunchy.
In this case, cornbread that's at least a day old, up to almost stale, is recommended!
What do you think of these Black folks cornbread dressing recipes?
Which one will you make first?
If you like these recipes, then you'll love these best soul food cornbread recipes HERE, best soul food chicken recipes HERE, and best Southern desserts HERE!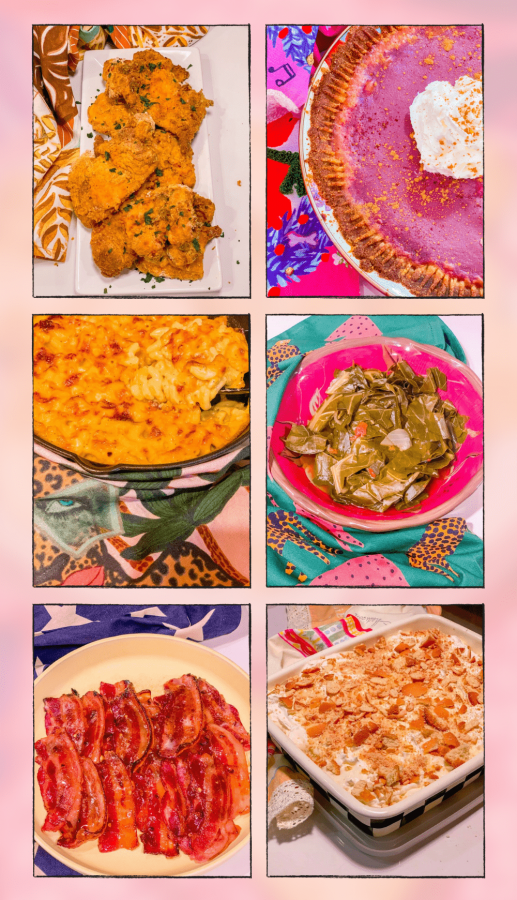 Equipment
8″ cast-iron skillet

8″ baking dish

Instant Pot Omni Plus oven
Ingredients
Ingredients for the cornbread
8 ½

oz

cornbread mix

Jiffy Corn Muffin Mix, 1 box

¼

cup

sugar

granulated (*can be omitted if you don't prefer cornbread sweet)

4

tablespoons

butter

unsalted

3

oz

cream cheese

whipped cream cheese

4

oz

heavy whipping cream
Ingredients for the soul food cornbread dressing
¼

cup

butter

unsalted

2

tablespoons

butter

unsalted

1

cup

yellow onion

diced

1

cup

celery

diced

1

tablespoon

thyme

fresh or dried

1

tablespoon

rosemary

fresh or dried

1

teaspoon

sage

ground

¼

cup

parsley

finely chopped

½

cup

chicken stock

or chicken broth (Use vegetable broth to make this dish vegetarian.)

1

teaspoon

salt

½

teaspoon

black pepper

1

egg

large
Instructions
Instructions for the cornbread
Preheat the conventional oven or Instant Pot Omni Plus oven to bake at 350 degrees for 10 minutes (although you may not use all of this time for melting the butter).

Place the 4 tablespoons of butter in an 8-inch skillet and melt in the oven for approximately 5 minutes.

While the butter is melting, combine the Jiffy cornbread mix, sugar, cream cheese, and heavy cream in a medium-size mixing bowl.

Pour the melted butter from the skillet into the mixing bowl and mix all the ingredients together.

Pour the cornbread mixture into the skillet.

Bake at 350 degrees F. In the conventional oven for 25-30 minutes. Instant Pot Omni Plus oven for 23-25 minutes.

When the baking time has finished, allow the cornbread to cool for approx 10 minutes.

Cut the bread lengthwise and then across into 1-inch bread cubes and set aside.
Instructions for Black folks cornbread dressing
Grease an 8″ or similar-sized baking dish and set it aside.

Remove the lid from the Instant Pot and turn on the sauté setting for 8 minutes.

With the lid off, melt ¼ cup of butter.

Add the chopped onion, celery, thyme, rosemary, and sage.

Stir to coat the vegetables in the herbs and melted butter and then sauté until they soften and slightly brown.

Add the chicken stock, salt, and pepper to the inner pot's simmer, and stir to combine.

Remove the herb mixture from heat and set aside.

Allow the mixture to cool to the touch so that it can be mixed with the egg. (You don't want the egg to cook from the residual heat and scramble!)

While the herbs are cooling off, beat the egg with the parsley in a medium-sized bowl.

Gently fold in the cornbread cubes to coat with the egg.

Pour in the cooled herb mixture into the egg mixture.

Transfer the mixture to the pre-greased baking dish.

Cut the 2 tablespoons of butter into small pats and place them all around on top of the dressing.

Cover the baking dish with foil and bake at 350 degrees F. 35 minutes in the conventional oven. In the Instant Pot Omni Plus oven for 30 minutes.

Uncover and bake until golden, 10-15 more minutes (conventional oven), 10 minutes (Instant Pot Omni Plus oven).

Serve cornbread dressing warm, and enjoy!

Optional – serve with gravy on top.
Notes
A common question when making cornbread dressing is,
"Why is my cornbread dressing mushy?"
When you're adding ingredients to the mix and stirring the batter, try not to overwork it, so you don't

break down the cornbread

,

which could cause the dressing to have a mushy texture.

The dressing before it's baked should be moist but not watery or gummy. If you find that your stuffing is too wet, you can add a few slices of cubed honey wheat bread to soak up the extra liquid.
How do you fix dry stuffing?
You can fix dry stuffing with a few tablespoons of melted butter or chicken stock, or broth.

Remember, try not to overwork the stuffing when adding ingredients and mixing. You don't

want to break down the cornbread

,

which will cause the dressing to then have a mushy texture.
Nutrition
Calories:
283
kcal
|
Carbohydrates:
33
g
|
Protein:
6
g
|
Fat:
14
g
|
Saturated Fat:
7
g
|
Polyunsaturated Fat:
1
g
|
Monounsaturated Fat:
5
g
|
Trans Fat:
1
g
|
Cholesterol:
56
mg
|
Sodium:
667
mg
|
Potassium:
217
mg
|
Fiber:
3
g
|
Sugar:
16
g
|
Vitamin A:
725
IU
|
Vitamin C:
6
mg
|
Calcium:
92
mg
|
Iron:
1
mg