23 Southern Soul Food Thanksgiving Desserts
Soul food Thanksgiving desserts – West Africa was the homeland of most Africans who arrived in America as enslaved people. These ancestors brought their culinary traditions with them to the Southern United States.
Soul food recipes history
This post is a curated experience of soul food recipes, their rich history, and their distinctive flavor profile. An integral taste that has shaped American food culture.
From pies to Southern sweet potato casserole, seasoned-to-perfection, butternut squash, and candied yams to how Black people prepare fried fish and Southern sweet tea.
West African traditions even influence today's elevated and intentional soul food vegan recipes.
What foods did enslaved Africans bring to America?
When West Africans were forced into slavery, their White captors also took from Africa what's known today as some of America's favorite foods.
From okra, peppers, watermelon, yams, and black-eyed peas.
They also brought the kola nut – one of the main ingredients in Coca-Cola. West Africans used to chew this nut for its caffeine.
How do African Americans celebrate Thanksgiving?
Food is vital in Black culture because it brings people around the table and puts a pause on the constant oppression of our people, along with fast-paced living. Replacing it with good times, comfort food, happiness, and laughs, especially during the holidays.
From soul food favorites like Southern fried catfish, chicken with thick mushroom gravy, honey baked ham to sweet potato casserole. All this food at once we call a soul food holiday meal, Thanksgiving, Christmas, or New Year's.
Black people have our own swag, flavor, and spin on how we celebrate holidays. And Thanksgiving is one of those holidays with many unspoken rules about our collective food culture.
6 good to know tips for attending a Black Thanksgiving
Don't arrive empty-handed. But don't attempt to bring the dressing, potato salad or baked macaroni and cheese.

Someone in the family is already sanctioned with making those integral Black America Thanksgiving side dishes! If you have nothing to bring or don't cook, just get aluminum foil, which is always helpful for later to-go plates!

Dressing is what we call Black people's "stuffing."
No pumpkin pie. Always sweet potato.
Make room on your plate because you can expect 6-10 soul food Thanksgiving sides. And 3-5 soul food Thanksgiving desserts, i.e., sweet potato pie, peach cobbler, or pecan pie. (And no. Candied yams with marshmallows is not a dessert!)
Try the more than one kind of soul food seasoned turkey (i.e., fried turkey, grilled turkey, BBQ turkey, cider brined turkey, roasted turkey).
And although you should arrive in time – the Thanksgiving meal will likely not be served on time!
Having a big group at Thanksgiving?
Black people gather, connect, and celebrate with soul food. Food is a way to show how much another person is cared for.
Being able to feed someone is a significant and respected part of Black food culture.
What is a soul food Thanksgiving menu?
A soul food Thanksgiving menu is a dinner with Southern soul food entrées, side dishes, and soul food Thanksgiving desserts. Black folks' recipes!
What do you serve on a soul food Thanksgiving menu?
Whether your family's celebrating with a traditional Thanksgiving feast or hosting a family potluck event.
You're sure to find the soul food savory and sweet flavors they're all expecting in this authentic soul food Thanksgiving desserts list.
Use this guided soul food Thanksgiving desserts menu and feel confident about hosting this holiday!
What are Southern desserts?
Southern desserts are classic after-dinner favorites primarily from the Southern US states.
These Southern desserts include down South classics and favorite African-American dessert recipes.
The best soul food Thanksgiving desserts
… and more!
How do you make a Thanksgiving soul food menu?
It's easy to create your very own soul food Thanksgiving menu by simply following each soul food recipe here. Choose the ones you love and start there!
My best soul food recipes, traditional Thanksgiving Southern soul food side dishes, and Southern soul food Thanksgiving desserts will make lasting family memories and nostalgic moments. The kind you eat!
What are some good soul food Thanksgiving recipes?
What can you make for a traditional Thanksgiving dinner?
Traditional soul food Thanksgiving fixings may include:
Black Thanksgiving food
What will you find in this Thanksgiving collection?
A soul food Thanksgiving menu is a meal plan with Southern entrées and Black folks' soul food Thanksgiving desserts.
From the rooter to the tooter, as old Black folks might say!
This soul food Thanksgiving dinner menu is more than the hog, tho.
From the Thanksgiving Day turkey to the smallest kernel of corn – it's a collection of the best soul food recipes. A Thanksgiving dinner feast fit for a king!
Still looking for dessert ideas for your Thanksgiving table?
Then start here! With this list of soul food Thanksgiving desserts.
Forget about dry, bland pies and tasteless puddings this Thanksgiving!
Instead, prepare for soulful, flavorful desserts that'll have your family bursting into celebration songs! (Mariah Carey Christmas tunes, anybody?)
Black soul food desserts for Thanksgiving
What do African-Americans eat for dessert?
Check out these best recipes for some of what Black folks include as part of our soul food Thanksgiving desserts menu.
Black folks sweet potato pie
Black folks' deep-south sweet potato pie is somewhere between a Southern candied yam and an old-fashioned gingersnap!
Thanksgiving sweet potato pie recipe
Try Black folks sweet potato pie's contemporary cousin made with Stokes purple sweet potatoes!
Southern sweet potato pie
What makes this sweet potato pie Southern? It's the addition of the smooth velvety cream cheese frosting!
Black folks Southern pecan pie recipe
The only way to improve on pecan pie? It's with this classic but easy soul food recipe!
Soul food almond flour pie crust
An almond flour pie crust is so easy to make, just like a regular pie crust. Even if you don't have any baking experience at all, trust me, you'll be able to whip this up in minutes!
Black folks Southern tea cakes
Black folks Southern peach cobbler recipe
Southern peach cobbler is an iconic Southern dessert first created with biscuit dough, dropped over sliced peaches, and placed at the bottom of an iron pot. It was baked in an open hearth, cooking over hot coals for… Presto – peach cobbler!
Black folks Southern banana pudding
Why would you serve another type of pudding when it could be Black folks Southern banana pudding?
This mouth-watering recipe has been tempting Southerners for generations with ingredients like cream cheese and vanilla wafer cookies. There's nothing like this Southern dessert recipe's whipped creamy texture and sweet taste.
Black folks chocolate Southern banana pudding recipe
Black folks Southern bread pudding
Is it a dessert or a side dish? Of course, it's 100% a dessert if you add vanilla ice cream! But you can let guests decide the role of this conversation starter recipe at your next Thanksgiving dinner or Christmas feast!!
Soul food apple pie recipe
Want the goodness of classic apple pie, but have no time to put in all the work? This sweet soul food apple pie recipe is not difficult to make, and any beginner can master it.
Black folks Southern soul food carrot cake
Black folks red velvet cake
Southern soul food Thanksgiving desserts list
Delight your family and friends with a Southern soul food pig pickin cake – the only mandarin orange-infused cake with pineapple frosting!
Pie crust cookies Southern desserts
What's better than cookies? How about cute little pie crust ones! Heavenly, crispy, and flaky pie crust cookie bites. Get the best flavors of each season in every bite.
Southern Living chocolate lava cake recipe
How to make chocolate lava cakes at home!
Instant Pot Southern banana pudding from scratch
Pudding desserts in Southern style. Why not?
Instant Pot Banana pudding is a Southern dessert specialty that everyone should know how to make from scratch. I've made it even easier to learn how with this Instant Pot recipe.
Most Southern ambrosia recipes contain canned fruit or fresh fruit like Dole pineapple chunks, canned mandarin or navel orange slices, miniature marshmallows, whipped cream, cream cheese, and coconut flakes.
Black folks homemade eggnog
Black folks Hennessy & Puerto Rican eggnog (Hennessy coquito)
Soul food Thanksgiving cornbread
What would a Southern feast be without a little cornbread, y'all?
Is cornbread a Christmas food?
It is! And the best of both worlds with this recipe! A combination of Black folks' fresh cranberry sauce and Black folks' homemade cornbread.
Also, check out this recipe for how to make fresh cranberry sauce even easier in an Instant Pot!
Why is your cornbread dressing mushy?
Pro tip: When you're adding ingredients to the mix and stirring the batter, try not to overwork it, so you don't break down the cornbread, which could cause the dressing to have a mushy texture.
Southern soul food Thanksgiving desserts FAQs
What's the difference between sweet potato pie and pumpkin pie?
It may seem like sweet potato pie is just a fancier, more flavorful version of pumpkin pie (and it is). Still, there are some significant differences between the two.
Pumpkin pies are traditionally made with sugar, spices, and eggs.
Sweet potato pies have been elevated with soulful flavor combinations like cinnamon-sugar and sweet vanilla, cloves, and nutmeg. Mixed beautifully with softened sweet potatoes or yams.
Most pumpkin pies tend to be bland, dense, and creamier. Even with the addition of pumpkin pie spice, pumpkin pie is no comparison.
In contrast, sweet potato pie has more texture, and the filling is airier and fluffier.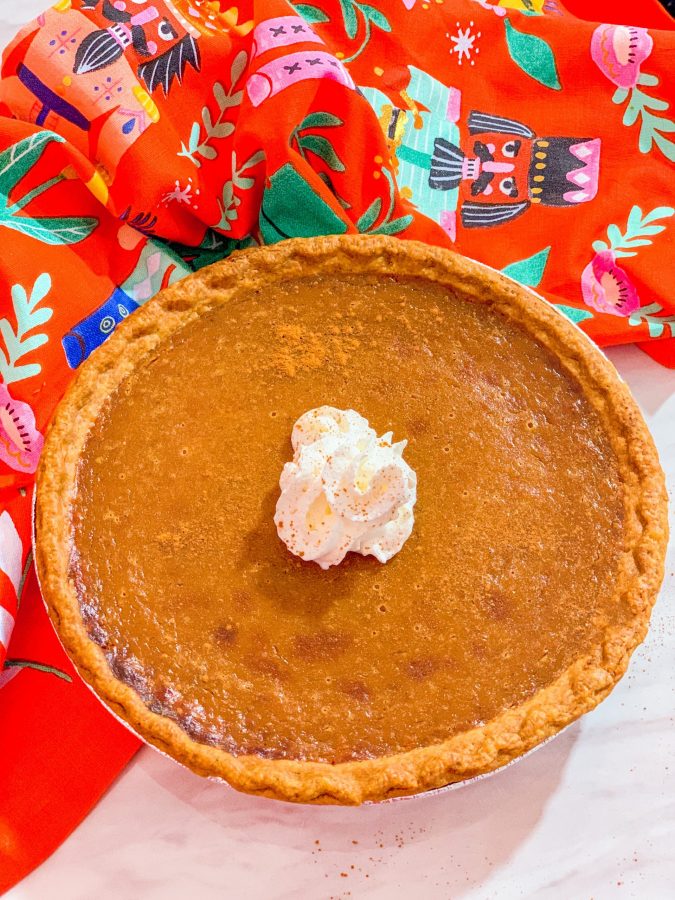 Which is better, pumpkin or sweet potato pie?
Some think that pumpkin pie has a similar texture to sweet potato pie.
But even with that thinking, the sweet potato has an even richer and namesake "sweeter" flavor than a pumpkin.
So, in my opinion, sweet potato pie is even more delicious!
What are the top 10 Thanksgiving side dishes?
Then what are the top 5 Thanksgiving side dishes?
What are 2 Thanksgiving must-haves?
Technically, one thing. But good enough to be two!
What are the 2 most popular main dishes for Thanksgiving?
The two main dishes you'll find at any Southern soul food Thanksgiving dinner are turkey or ham.
What is the most popular Thanksgiving food?
Hands down – turkey!
They don't call it Turkey Day for nothing!
How much turkey do you need per person?
A good rule of thumb is 1 pound of turkey per person, so you know you have enough on hand and don't run out too early in the evening.
Planning for at least 1 pound per person will also possibly leave you with turkey leftovers for your next day brunch or dinner – Yum!
What can you make with leftover turkey after Thanksgiving?
This recipe combines leftover turkey with delicious Thanksgiving soul food side dishes.
What is the turkey wishbone tradition?
This whimsical tradition involves the wishbone in the turkey carcass.
Two people grab a side of the wishbone and break the bone apart while making a wish.
"The wishbone rules are simple: One person grabs each side, pulls, and the person with the bigger half gets a Thanksgiving wish."
What can you have for Thanksgiving besides turkey?
Who says you can't enjoy ribs on Thanksgiving?
How many sides should you make for Thanksgiving?
You'd only need about 2-3 sides for any other ordinary dinner.
No need to overwhelm yourself with more unless you're preparing a Thanksgiving or Christmas dinner.
In that case, you can enlist help from your guests with a potluck of side dishes! This way, you end up with 4-6 Thanksgiving side dishes.
What is the least popular Thanksgiving side dish?
It's gotta be green bean casserole – a bland dish that's not one of the many flavorful soul food Thanksgiving side dishes.
Pro tip: Don't show up to a soul food Thanksgiving dinner with green bean casserole. Or anything not on the official soul food Thanksgiving dinner menu, for that matter.
Why you might ask?
The Root explains it best in their Dos and Don'ts to survive a Black Thanksgiving.
The reception of your unknown dish is likely to go like this:
"DON'T bring something new:

Stick with tradition. Thanksgiving is not the time for new shit. Plus, you're gonna be sad when your pan of gluten-free Australian cornbread is sitting on the counter untouched until your 12-year-old cousin takes a bite and yells: "Grandma! Tell everyone not to eat this cornbread. It must have rotten milk in it or something. It's nasty!"
What is the most favorite Thanksgiving side dish?
To America, it might be mashed potatoes.
To Black people, it's another dish from the potato family.
Sweet potatoes. On a soul food Thanksgiving menu, we call them candied yams.
How many sweet potatoes should you make per person?
For example, to make 8 servings of candied yams, you need about 3 pounds of sweet potatoes.
If you're only serving regular mashed potatoes at Thanksgiving … Well why?
How long can you actually leave potato salad out?
Don't ask why. Black potato salad is eaten year round and is definitely one of the essential top 10 Thanksgiving side dishes.
Because potato salad is a moist recipe made with eggs, potato salad should be refrigerated overnight.
However, it can be left out for several hours at room temperature without going bad.
If you've never tried making deviled eggs… Why not?
Who says coleslaw doesn't belong on a Thanksgiving table?
Why is mac and cheese served at Thanksgiving?
The same reason why Southern baked mac and cheese is so important to Black culture.
Baked mac and cheese is just one of the many soul food cuisines turned American dishes. And this yummy dish has a really old history.
Known initially as macaroni pie, baked mac and cheese was created by James Hemings, an African American enslaved and trained as a culinary chef in France.
Simply put, baked macaroni and cheese's cultural past are key ingredients that spice and flavor the African American table like no other.
How do you season like a Black person?
Soul food recipes rule number one: Always season your meat!
Even if you're going to use a sauce – first season the meat!
Favorite soul food sauces and seasonings include:
Paprika

Mustard seed

Garlic powder

Onion powder

Red chili pepper

Cinnamon

Nutmeg

Celery seed

Curry powder

Salt

Black pepper

Worcestershire sauce

Hot sauce
What time do Black people eat Thanksgiving?
These sentiments from The Root in their piece on The Survival Guide to Black Thanksgiving are hilariously spot on:
"Thanksgiving dinner starts promptly at 3 p.m., which means 4:19. But you know that someone is going to call you and tell you to bring some ice, so you should leave early. Plus, if you're late you will be subjected to second-tier macaroni from a non-sanctioned macaroni-maker."
What is Black soul food?
Or, as people often ask, what is "real" soul food?
Soul food is closely connected to the cuisine of the Southern United States.
Therefore, it's often considered synonymous with Southern food.
However, the true definition of soul food does not require Southern roots. Instead, soul food is simply a legacy of African American cooking.
What are popular soul food dishes?
While soul food recipes may be accredited to the Southern US states, it's a cuisine loved everywhere! Especially these favorite soul food sides:
Black family Thanksgiving food list
What are traditional Black foods?
These soul food recipes and soul food Thanksgiving desserts and dinner ideas! My best examples – easy enough for anyone to make and everyone to love!
What do Southern people have for Thanksgiving?
What is a typical Southern Thanksgiving dinner? It usually includes:
What is a soul food Christmas dinner?
What is a traditional Black Christmas dinner, you might ask?
A soul food Christmas dinner menu is Southern soul food entrées and Black folks' recipes and dishes.
Now, close your eyes. Take a deep breath. And imagine yourself sitting down to the perfect Christmas dinner feast.
Tender, juicy, and flavorful meats and side dishes. Oh, so savory and sometimes even sweet!
The scent of a soul food Christmas dinner wafting through the air. An aromatic smell and the essence of Black folks' food. The kitchen becomes the gift that keeps on giving.
What do Black families eat for Christmas dinner?
Love easy Instant Pot recipes?
Now you can enjoy iconic African American soul food recipes reimagined via Instant Pot.
From a traditional Black folks' Easter dinner to classic soul food Thanksgiving desserts!
With Instant Pot, you can magically make classic Black food recipes and modern variations of healthy food like vegetarian and vegan soul food in a matter of minutes!
What do you think about this soul food Thanksgiving desserts menu and recipe roundup?
What are your favorite holiday desserts?
Which ones are on your Thanksgiving menu?
Comment below and lemme know.
Then subscribe HERE for all the soul food!