What is soul food, and where did it come from?
Soul food is African American food derived from Black enslaved people's take from often unwanted or unknown parts, scraps, or leftovers of American and British cuisine.
Combined with the soulful essence of West Africa for color, warmth, and flavor, it's the preservation of Black people's food traditions.
Soul food recipes have been a staple of Black food culture and cuisine since its inception, and it's only gotten better with age!
So whenever someone asks, "What is soul food exactly?"
Tell them to start here!
What foods did enslaved Africans bring to America?
When West Africans were forced into slavery, their White captors also took from Africa what's known today as some of America's favorite foods.
Favorites from okra, peppers, watermelon, yams, and black-eyed peas.
They also brought the kola nut – one of the main ingredients in Coca-Cola. West Africans used to chew this nut for its caffeine.
What is the meaning of soul food?
"Soul" describes the swag and unique style of African-American cuisine. You know. The flavor.
Soul food definition
The definition of soul food can easily be summed up as tender, juicy meats, flavorful gravies, and sauces. And vegetables seasoned so deliciously that you forget they're good for you!
That's soul food – a legacy of Southern cooking the Black way.
Why is it called soul food?
It's called soul food because of the Southern hospitality it's served with and the heart-centric, "soulful" feeling cooked into every dish.
An attribute akin to only Black people and how we cook, fashion, and create with style and swag.
The flavor is affectionately termed soul food.
What is Black soul food?
Soul food is closely connected to the cuisine of the Southern United States.
Therefore, it's often considered synonymous with Southern food.
However, the true definition of soul food does not require Southern roots.
Instead, soul food is simply a legacy of African American cooking. Black people's food.
What is the difference between Southern food and soul food?
Soul food and Southern are often compared.
But enslaved African Americans developed soul food's distinct character by creating outstanding meals from what was thought to be less-than-desirable cuts of meat and produce.
Southern food can be described as down South, home-cooked comfort food recipes where you can taste the hospitality.
What is considered soul food?
Any one of the following soul food recipe favorites:
After looking at the soul food cookbook list of favorites above, you might think everything looks and sounds so good, but where do you start?
When it comes to Black people's food, the current generation is often asked:
"How can you spend so much time helping your elders with food preparation without learning the specific recipes?"
I'm committed to archiving and sharing our ancestor's classic soul food recipes. Black people's food and African American cuisine!
How can you get started making soul food at home?
Thanks to Instant Pot, most of these recipes are made to order in a fraction of the traditional time without compromising the authentic soul food flavors or ingredients.
What is a traditional Black meal?
Put another way, what is a typical soul food meal?
Start with evergreen soul food side dishes like:
Then, move on to the main course to include soul food entrées like:
…and more!
Finally, bring the meal to a standing ovation close with mouth-watering Southern dessert favorites such as:
Soul food recipes represent Black culture.
What is Black culture food?
African American food culture consists of hearty homecooked meals that you can point out as dishes with plenty of seasoning and rich flavor!
What are some Black people foods?
What is soul food FAQs
Is chicken considered soul food?
Chicken, especially fried chicken, is a food thrown on the doorsteps of Black people as a way to identify us.
But, of course, you know, African Americans didn't invent the chicken!
We just perfected seasoning it!
That's how soul food Southern fried chicken became arguably the most popular of the many soul food recipes.
What is the most popular soul food?
While soul food recipes may be accredited to the Southern US states, it's loved everywhere from coast to coast in an array of popular dishes, including the soul food dishes below:
What are 3 examples of soul food?
What vegetables are used in soul food cooking?
Southern vegetable favorites include soul food seasoned collard greens, baked yams, sweet potato pie, and okra.
Is mac and cheese soul food?
Black Southern mac and cheese became "a celebratory dish, a convenient comfort food, and a meal stretcher for families."
We recognize this dish today as soul food!
How did mac and cheese become soul food?
Known initially as macaroni pie, baked mac and cheese was created by James Hemings, an African American enslaved person trained as a culinary chef.
This dish has been a staple of soul food cuisine since its inception, and it's only gotten better with age!
Mac and cheese is just one of the many soul food cuisines turned American dishes.
Is meatloaf considered soul food?
Are mashed potatoes considered soul food?
Is spaghetti considered soul food?
You can enjoy notable recipes like fried fish, collard green recipes, cornbread, macaroni and cheese, chicken and dressing, sweet potato pie, and banana pudding. Just to name a few soul food recipe favorites.
These recipes are part of the authentic soul food family and soul food history. Recipes passed along through generations and a legacy of African Americans.
Why is food so important to Black people?
Soul food has a rich and flavorful history that ties Black culture to its African roots. That history is deeply reflected in Black people's food.
Soul food began because of Black people's lack of food access. "Making something from nothing" with the leftover scraps was the food system for enslaved Africans.
Being able to feed someone is a significant and respected part of Black food culture.
Black people gather, connect, and celebrate with soul food. Food is a way to show how much another person is cared for.
What does soul food mean to Black people?
Soul food has new meanings and multiple identities within the Black community today.
Yesterday's food insecurity and meals made to stretch for impoverished families are now celebratory, comfort food, and often culinary delicacies and expensive cuisine!
We now recognize these Black people's foods as soul food!
What cities have the best soul food restaurants?
In the 1940s, soul food restaurants appeared in every large American city with a sizeable Black population, attracting a diverse clientele with their flavorful and culturally rich foods.
Some of the most famous soul food restaurants are:
St Louis, MO –

Sweetie Pie's

restaurant

Los Angeles, CA –

Roscoe's Chicken And Waffles

Harlem, NY –

Sylvia's

Las Vegas, NV – Yardbird
What cities have the best soul food scene?
New Orleans is famous for its iconic soul food gumbo, while Atlanta is recognized for anything peach.
What state has the best soul food?
Instead of just one best state, states are recognized individually for their most famous soul food dishes.
Alabama fried catfish

Mississippi pot roast
What's the difference between Cajun and Creole?
Cajuns today are commonly White, and Creoles are Black or mixed race. Creoles tend to come from New Orleans, while Cajuns populate the rural parts of South Louisiana.
Do you have any favorite soul food cookbooks?
Did you enjoy this recipe guide about what is soul food?
Have you had soul food?
Would you make it?
Comment below and lemme know.
Then subscribe HERE for all the soul food!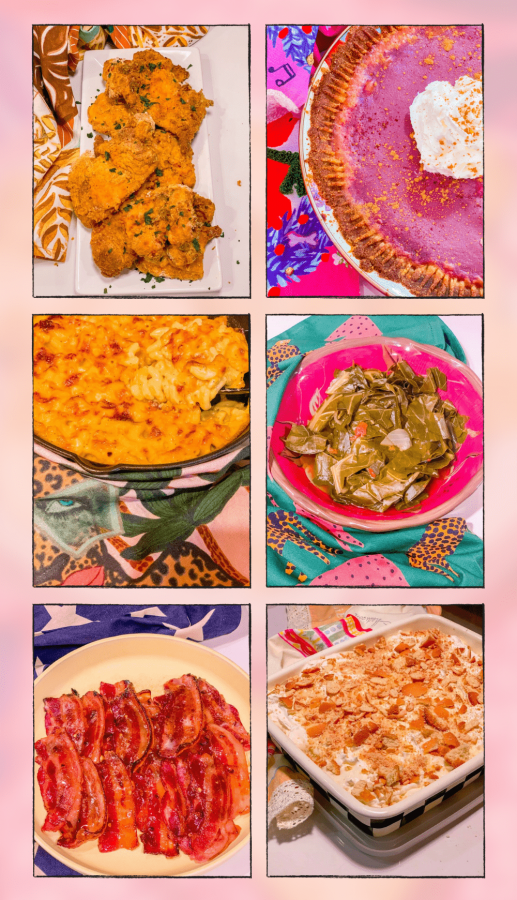 Equipment
or Cast iron skillet or Dutch oven
Ingredients
6-8

pieces

chicken

6-8 pieces of chicken, or one 3-pound chicken cut into pieces

48

oz

peanut oil

or vegetable oil

2

cups

all-purpose flour

divided

2

tablespoons

cornstarch

(optional for increased crunch)

1 ½

teaspoon

garlic powder

1 ½

teaspoon

onion powder

1 ½

teaspoon

paprika

¾

teaspoon

red pepper

(chili pepper)

1

tablespoon

poultry seasoning

or all-purpose seasoning

1 ½

teaspoon

salt

¾

teaspoon

black pepper

1

egg

½

cup

buttermilk

½ cup of buttermilk = ½ cup of milk & ½ tablespoon of apple cider vinegar
Instructions
Mix the poultry seasoning, salt, and pepper in a small bowl.

Rub the seasoning mixture all over each piece of chicken.

Pour the peanut oil (preferred) or vegetable oil into a deep fryer, 6-quart skillet, or Dutch oven until the oil is 1-inch deep.

Heat the oil over medium heat or until it reaches 350 degrees F.

While you're waiting for the oil to heat up, place 1 cup of the divided flour, garlic powder, onion powder, paprika, and red pepper in a medium-size mixing bowl or 1-gallon resealable food storage bag.

Shake (or mix) the sealed bag to combine the ingredients for a homemade poultry seasoning, and set the flour mixture aside.

Pour the second cup of flour into a second resealable bag (or medium-sized mixing bowl) and set it aside.

Whisk together the buttermilk and egg in another medium-sized bowl, and set that mixture aside.

In a third bag or bowl, mix the remaining flour and the optional cornstarch and set this mixture aside.

The chicken will go through a 3-step process from here.

First, place the chicken in the bag (or bowl) of seasoned flour and shake or toss to coat the chicken evenly.

Second, shake off the excess flour and dip the chicken into the buttermilk mixture.

Third, transfer the chicken to the last bag (or bowl) of flour and shake or toss until it's very well coated.

Place the coated chicken into the pre-heated oil, skin-side down, and be careful not to overcrowd the chicken in the oil. You can fry a second batch, if need be, to avoid overcrowding by frying all the chicken at once. Just make sure the hot oil remains at 350 degrees F.

Cook the chicken pieces for 10 to 12 minutes, occasionally turning to prevent excessive browning.

As the chicken batter turns golden brown. Then remove it from the hot oil, and allow it to drain in a closed container (to keep the fried chicken warm) with a paper towel under the chicken.

So what is soul food? Serve this fried chicken recipe right away to get the best taste of soul food. Enjoy!
Nutrition
Calories:
2199
kcal
|
Carbohydrates:
37
g
|
Protein:
6
g
|
Fat:
229
g
|
Saturated Fat:
39
g
|
Polyunsaturated Fat:
73
g
|
Monounsaturated Fat:
105
g
|
Trans Fat:
0.01
g
|
Cholesterol:
30
mg
|
Sodium:
616
mg
|
Potassium:
109
mg
|
Fiber:
1
g
|
Sugar:
1
g
|
Vitamin A:
151
IU
|
Vitamin C:
3
mg
|
Calcium:
44
mg
|
Iron:
2
mg
Nutrition Facts
What Is Soul Food? | Soul Food Fried Chicken
Amount per Serving
% Daily Value*
* Percent Daily Values are based on a 2000 calorie diet.