Southern Soul Food Christmas Side Dishes
Two words we love to hear come December…
Christmas dinner!
Because the most magical time of the year comes with a holiday feast that should include the best Christmas dinner side dishes!
So, close your eyes. Take a deep breath. And imagine yourself sitting down at home on Christmas Day, surrounded by family and friends.
The scent of a soul food Christmas dinner in the air. An aromatic smell and the essence of Black folks' food.
This year, create delicious memories with this exceptional soul food Christmas side dishes menu!
The best Christmas side dishes include:
What dishes are served on Christmas?
A soul food Christmas menu is a dinner with Southern soul food entrées and Black folks' main dish recipes and side dishes.
From the rooter to the tooter, as old Black folks might say!
What do you serve with Christmas dinner?
23 best Christmas side dishes
Black Folks Southern candied yams with marshmallows
Fall in love with something new this year – Black folks' Southern candied yams! These sweet babies are perfect for winter or fall. A side dish – kinda like a Southern dessert!
Black folks collard greens
Without a doubt, Black folks' collard greens are one of the most flavorful and hearty vegetables on earth! It's like eating Black excellence.
Black folks' fresh cranberry sauce
Forget those canned alternatives. This fresh cranberry sauce is made from all-natural and soul food spices. So delicious!
Black folks Southern baked mac and cheese
Macaroni noodles boiled in a milk bath, tossed in a creamy cheese sauce, seasoned, and then baked until brown and crispy around the edges!
Soul food lobster mac and cheese
Black folks creamed corn pudding
Made from the highest quality ingredients available – buttery homemade cornbread, fresh sour cream laden with melt-in-your-mouth Parmesan cheese!
Black folks' cornbread dressing recipe
This Southern dish is made of fluffy cornbread, fresh herbs, and veggies cooked with plenty of butter, broth, and egg.
Old-fashioned Southern cornbread dressing
Black folks' chicken and dressing
Southern cornbread dressing with chicken gizzards
Black folks' Southern oyster dressing
Black folks Southern green beans
Tired of bland green beans all the time?
Instant Pot Southern green beans recipe brings life back to this boring dish! In just 2 minutes, these soul food seasoned veggies are ready for your Thanksgiving dinner table!
Black folks brown sugar-glazed carrots
Brown sugar-glazed carrots are the simplest way to get your guests to say, "Wow." Just add some thyme, salt, pepper, chicken stock, and butter to bring out the best of this vegetable! You'll be like, "Wow, carrots! I didn't know you had that in you!"
It doesn't get more southern than creamed corn! That's why Southern creamed corn is a nostalgic dish. The essence of warmth and home cooking.
Black folks' Southern cabbage recipe
Is it a dessert or a side dish? Let these delicious Black folks' baked apples be the conversation starter at your next Thanksgiving feast!
Black folks' creamy mashed potatoes recipe
Black folks' Southern potato salad recipe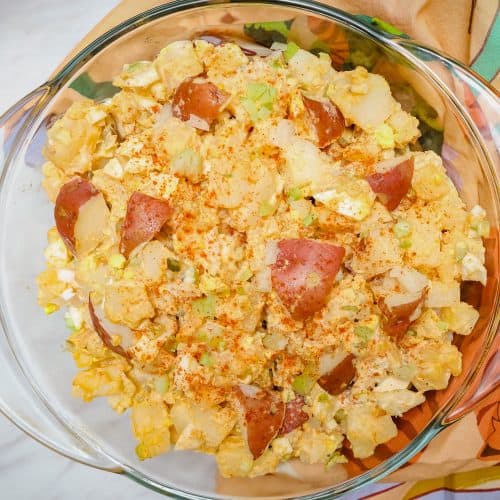 Black folks' soul food macaroni salad
Soul food red beans and rice
Black Folks Soul Food Red Beans And Rice
Experience the rich taste of soul food by way of a simple yet flavorful staple dish. Black folks' soul food red beans and rice. A dish that will make your mouth water when you smell the aroma of savory seasonings and spices as the red kidney beans soak in the rich flavors of this dish!
Check out this recipe!
Black folks black-eyed peas
A Black folks' New Year's holiday tradition!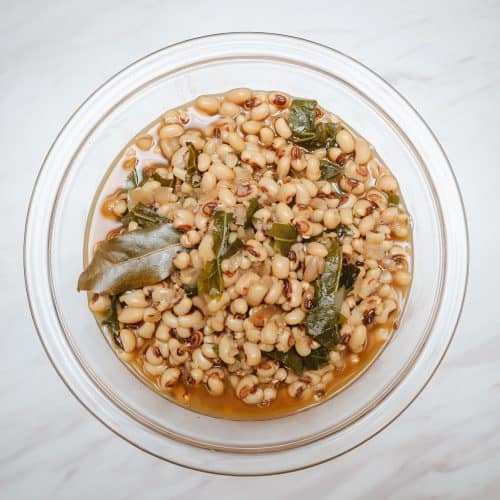 Southern Black Eyed Peas
Soul food Southern black eyed peas are intensely flavored in a thick sauce with smokey & spicy seasonings. Warm, comforting, & flavorful good luck you can eat for prosperity in the New Year!
Check out this recipe!
Soul food Southern deviled eggs recipe
The Soul Food Pot Southern roasted Brussels sprouts recipe – coming soon!
Best soul food cornbread recipes
Trading in dinner rolls or buttermilk biscuits for buttermilk cornbread this Christmas?
Then check out these Christmas cornbread recipe ideas!
Black folks' homemade cornbread
What would a Southern soul food feast be without the cornbread, y'all?
Making the cornbread for this recipe from scratch?
Yep! So you won't need Jiffy Corn Muffin Mix here! From its thinly crisped edges to the chewy center, this skillet-baked bread is waiting for you to savor!
Cornbread recipe with corn
Cranberry sauce cornbread
It's the best of both worlds with this recipe! A combination of Black folks' fresh cranberry sauce and Black folks' homemade cornbread.
Also, check out this recipe for how to make fresh cranberry sauce even easier in an Instant Pot!
What do you serve after Christmas dinner?
And here's my list of the best holiday desserts to add to your list.
Black folks' Southern red velvet cake
Why not wow the crowd with a classic Southern dessert– Black folks' red velvet cake?
Southern Red Velvet Cake
Red velvet cake is considered to be soul food of the South! A Black folks' Southern red velvet cake is a made-from-scratch decadent red sponge cake with homemade cream cheese frosting. A cake that's just sweet enough to be irresistible!
Check out this recipe!
Christmas sweet potato pie recipe
Black folks' Southern bread pudding
Black folks Southern soul food carrot cake
Black folks' Southern banana pudding
Sure, you've had banana pudding before. But this is different because it's banana pudding the Black way! (Yes, with cream cheese!)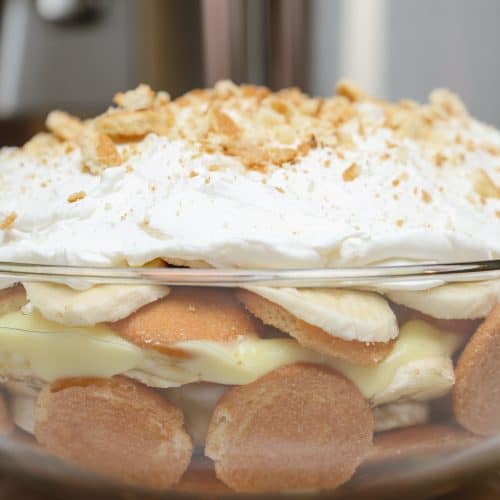 Black folks' chocolate Southern banana pudding
Instant Pot banana pudding made from scratch
Black folks' sweet potato pie
Black folks' deep-south sweet potato pie is somewhere between a Southern candied yam and an old-fashioned gingersnap!
This ain't no humble pie!
A purple sweet potato pie is a stark contrast from the traditional Thanksgiving hues of brown and orange. This pie is bright purple, so if you want your dessert this year to stand out from the crowd – make it a Black folks' purple sweet potato pie!
Southern sweet potato pie
Soul food almond flour pie crust
An almond flour pie crust is so easy to make, just like a regular pie crust. Even if you don't have any baking experience at all, trust me, you'll be able to whip this up in minutes!
Soul Food Almond Flour Pie Crust
What's the story of soul food and almond flour pie crust?Almond flour has a Black folks' history and soul food legacy.Black cooks in the South used to bake with almond flour because they didn't have access to traditional flour. The result was a moister, richer, and softer baked good!
Check out this recipe!
Black folks' Southern peach cobbler recipe
Black folks' Southern pecan pie recipe
Soul Food Southern Apple Pie Recipe
What makes this apple pie a Southern soul food specialty?The flavor! This soul food apple pie recipe features fresh apples sweetened with brown sugar and spiced with a blend of cinnamon and nutmeg. Seasoned to perfection, the apples are roasted and then baked in the pie to leave you reminiscing on the best Southern dinners!
Check out this recipe!
Strawberry Pretzel Salad
Strawberry pretzel salad combines strawberries with crunchy pretzels and cream cheese whipped topping. This Southern dessert is a great way to use up some of the strawberries that are in season now!
Check out this recipe!
Black folks' Southern tea cakes
Black Folks Southern Tea Cake Recipe
What are Black folks tea cakes?An African American Southern dessert, Black folks tea cake is a sweet little biscuit. Light, airy, and sometimes compared to soda bread or pound cake. Tea cakes are a traditional African American treat that dates back to the 1600s.
Check out this recipe!
Pillsbury mini Christmas wreaths
Soul food Christmas cocktails & drinks
Black folks' soul food homemade eggnog
Black folks moscato sangria recipe
Black Folks Moscato Sangria
Black folks like sweet recipes, so it's no wonder that we've signed on for this fruity and often sparkly Italian wine. And like we always do, started creating our own Black folks' recipes - like moscato sangria!#BlackFolksSwag
Check out this recipe!
Black folks Hennessy & Puerto Rican eggnog (Hennessy coquito)
Red Southern hibiscus sweet tea
Christmas candied yams recipe
Many people know the ham or the turkey to be the stars of the Christmas dinner table.
But this time, I'm bringing attention to one of the supporting-character sides. The Christmas candied yams!
Kitchen equipment for Christmas side dishes soul food candied yams
Ingredients for Christmas side dishes soul food candied yams
3 -3 ½ pounds of sweet potatoes

6 cups of cool water

½ cup of water

½ cup of unsalted butter (or vegan butter)

½ cup of brown sugar (light or dark brown sugar)

½ cup of granulated sugar

2 teaspoons of ground cinnamon

½ teaspoon of nutmeg

2 tablespoons of maple syrup

¼ teaspoon of ground ginger (or minced)

¼ teaspoon of ground cloves

1 tablespoon of vanilla extract

1 ½ cups of miniature marshmallows for topping (optional)
Instructions for Christmas soul food Southern candied yams
Wash the sweet potatoes. (I like to use

this vegetable scrubber HERE

.)

Peel and cut the sweet potatoes into thick round wedges.

Then set them aside to soak in a bowl of cool water to prevent browning while preparing the candied yams syrup.

Melt the butter in a medium-sized bowl in the microwave.

Add the brown sugar, granulated sugar, cinnamon, nutmeg, maple syrup, ginger, ground clove, and vanilla extract to the melted butter.

Mix the ingredients well to create the syrup glaze for the candied yams.

Next, Drain the sweet potato rounds in a colander.

Open the Instant Pot lid and add ½ a cup of water and the sweet potato rounds to the stainless-steel inner pot.

Pour the syrup glaze over the sweet potatoes.

Close the Instant Pot lid (ensure the valve is up – in the position for sealing) and pressure cook on high for 5 minutes.

When the cooking time is finished, allow a natural pressure release for at least 5 minutes.

To open the Instant Pot lid, move the valve to 'venting' and manually release any remaining pressure, if applicable.

Optional – Open the Instant Pot lid and sprinkle the miniature marshmallows over the cooked, candied yams.

With the lid placed not entirely on the Instant Pot (in a resting position, so it doesn't lock back into position on the pot) continue with the setting on 'keep warm.'

After about 5 minutes, check to see if the marshmallows have melted.

Once the marshmallows are melted, turn off the Instant Pot and transfer your Black folks' Southern candied yams recipe to a serving dish.

Serve Christmas soul food Southern candied yams right away, and enjoy!

Optionally, garnish with chopped pecans or walnuts, like a candied sweet potato casserole recipe.
What pairs well with candied yams?
You can't have this holiday side dish without the rest of the soul food supporting cast from the favorite soul food side dishes list.
Pick any from the recipe roundup:
Christmas side dishes FAQs
How many side dishes for Christmas dinner?
If you're asking Black folks, the answer is as many as will fit on the Christmas dinner table!
A soul food Christmas includes a whole soul food menu of delicious entrées and Christmas side dishes, including:
What do you serve with Christmas ham?
The above side dishes plus these too:
What is the most popular side dish for Christmas dinner?
The favorite has gotta be the soulful perfect side dish inspired by the African yam – soul food candied yams!
Is your mouth watering yet?
What is the most eaten food on Christmas Day?
Survey says – it's a Christmas ham!
What are the top 10 Christmas dinner foods?
Wondering what should you serve for Christmas dinner? Or what are the most beloved Christmas side dishes?
For all the answers and step-by-step recipe guidance. Checkout out this entire Christmas dinner list for the best main course, sides, desserts, and drinks for a sweet Southern soul food Christmas dinner.
What is a good Christmas Southern side dish?
Start here with this holiday table easy candied sweet potato recipe.
What to bring to a potluck without cooking?
Try any one of these easy 5-minute-or-less Instant Pot Christmas side dish recipes. Each is faster than the crock pot!
Why limit yourself to just Christmas?
Did you enjoy these Southern soul food Christmas side dishes?
Have you had these Christmas recipes?
Would you make them?
Comment below and lemme know.
Then subscribe HERE for all the soul food!