12 Best Soul Food Cornbread Recipes
Best Southern soul food cornbread –
Cornbread is best served with Sunday dinners and as part of a Christmas and soul food Thanksgiving menu.
Whether it's sweet, savory, or combined with chicken and dressing. When we're talking Southern soul food, cornbread is always a good idea!
12 Best soul food cornbread dinner ideas
Give your next meal the Southern comfort it deserves, and add one of these delicious soul food cornbread recipes.
Black folks chicken & cornbread dressing
Black Folks Chicken And Dressing
Thanksgiving means Southern soul food, made by our grandmamas, mamas, and favorite aunties. A meal we've waited all year to eat!One Southern dish that you shouldn't miss this Thanksgiving is Black folks chicken and dressing.
Check out this recipe!
Southern Chicken And Dressing
There's a reason why Southern chicken and dressing is a holiday tradition. It's tender, moist, and packed full of flavor.
There's nothing quite like it. And while lots of homemade Southern dressing recipes have weighed in on this debate, we're pretty sure ours trumps them all!
Check out this recipe!
What do Southerners eat with cornbread?
The possibilities are endless! These delicious cornbread recipes go well with a variety of your favorite soul food side dishes and dinner delights.
What kind of baking dish should you use for cornbread?
Skillet cornbread is probably hands down the most Southern and the easiest way to bake cornbread.
But what size skillet is best for cornbread recipes.
The best Southern cooks swear by the straightforward method of using an 8″ cast-iron skillet.
You can also bake cornbread in a glass dish or even in a muffin tin.
If you plan to go with a cornbread muffin recipe, keep in mind that they often bake faster than skillet cornbread, so you should keep an eye on them.
Cornbread dressing is often made in an 8-inch size baking pan.
Can you use Jiffy cornbread mix instead of making homemade?
Wondering what kind of cornbread you need for cornbread dressing?
While many Southern cooks will tell you that homemade cornbread is preferred. It's perfectly acceptable (and tastes good, too!) to use a cornbread box mix!
What is the ideal cornbread texture?
Cornbread can get a little difficult to enjoy when the texture is too dense, too dry, or crumbly.
The perfect cornbread is a delicate balance of crispy edges, a moist interior, and flavorful sweetness.
For an ideal texture, your batter should be moist and a little watery. If your batter is dense and thick, you might end up with cornbread that's too hard and dry to eat.
How do you know when cornbread is done?
The best way to tell when cornbread is done is by looking at the color.
If it has a golden-brown crust, then you're probably all set.
Another way to know if it's done is by using a toothpick. When the bread has cooled, poke the toothpick in the center of the bread and pull it out.
If there are moist crumbs on the toothpick, then your cornbread is not ready.
But if the toothpick comes out clean, it means your cornbread is ready to eat!
What do you think about these Soul food cornbread recipes?
Not sure what to cook tonight?
Soul food cornbread recipes don't have to wait until the next holiday, cookout, or Thanksgiving!
Serve cornbread with your dinner tonight as an appetizer, side dish dressing, or on its own as the main casserole dish!
If you like this recipe, you'll love these best Black folks cornbread dressing recipes HERE and best soul food chicken recipes HERE!
Juneteenth History, Facts, Food & Recipe Roundup
How do you honor Juneteenth and what do Black folks do to celebrate?
We honor Juneteenth by never forgetting the strength and resilience of Black people and Black excellence.
We celebrate Juneteenth and our African-American history with a tradition of Black folks food and recipes.
Check out this recipe!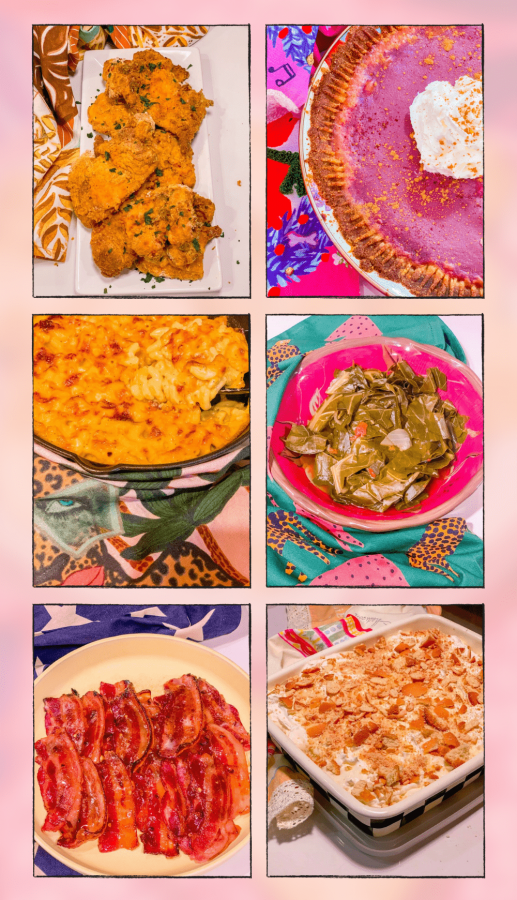 Ingredients
1

cup

cornmeal

medium grind

⅔

cup

all-purpose flour

2

teaspoons

baking powder

4

tablespoons

butter

unsalted

1

cup

heavy whipping cream

1

tablespoon

sugar

granulated

⅔

cup

cream cheese

whipped
Instructions
Preheat the conventional oven or Instant Pot Omni Plus oven to bake at 350 degrees for 5 minutes (although you may not use all of this time for melting the butter).

Place the butter in an 8-inch baking pan or skillet and melt in the oven for approximately 5 minutes.

While the butter is melting, combine the dry ingredients (cornmeal, flour, baking powder, sugar) with the cream cheese and heavy cream in a medium-size mixing bowl.

Pour the melted butter from the baking pan into the mixing bowl and mix all the ingredients together.

Pour the cornbread batter into the baking pan or skillet.

Bake at 350 degrees F. In the conventional oven, bake for 20-25 minutes. In the Instant Pot Omni Plus oven, bake for 18-20 minutes.
Notes
Nutrition
Calories:
293
kcal
|
Carbohydrates:
26
g
|
Protein:
5
g
|
Fat:
19
g
|
Saturated Fat:
11
g
|
Polyunsaturated Fat:
1
g
|
Monounsaturated Fat:
5
g
|
Cholesterol:
62
mg
|
Sodium:
187
mg
|
Potassium:
134
mg
|
Fiber:
2
g
|
Sugar:
3
g
|
Vitamin A:
704
IU
|
Vitamin C:
1
mg
|
Calcium:
108
mg
|
Iron:
1
mg