Black Folks Soul Food Easy Christmas Dinner Menu
Black folks easy Christmas dinner menu-
Yes, y'all, it's time for the most magical feast of the year! And there are two words we love to hear come December.
Oh, and Merry Christmas!
Because it's always a merry occasion with a soul food easy Christmas dinner menu!
What is a soul food Christmas dinner menu?
A soul food Christmas dinner menu is Southern soul food entrées and Black folks recipes and dishes.
Now, close your eyes. Take a deep breath. And imagine yourself sitting down to the perfect Christmas dinner feast.
Tender, juicy, and flavorful meats and side dishes oh so savory and sometimes even sweet!
The scent of a soul food Christmas dinner wafting through the air. An aromatic scent and the essence of Black folks' food. The kitchen becomes the gift that keeps on giving.
This year, create your own delicious memories with this easy Christmas dinner menu featuring exceptional Black folks' soul food!
What do you serve on a soul food Christmas dinner menu?
What's the best soul food Christmas menu?
Whether your family is celebrating with a traditional Christmas meal or hosting a family potluck event. You're sure to find the soul food classics and flavors they're all expecting in this roundup of Black folks' easy Christmas dinner ideas.
Use this guided collection of easy Christmas recipes and feel confident about hosting this year's holiday meal.
Black Southern Christmas dinner
And the list goes on and on!
Forget about dry, bland gravy and tasteless stuffing!
Instead, get ready for tender, juicy meats, and flavorful sides that'll have your family bursting into celebration songs well before the final entrée is served! (Mariah Carey Christmas, anybody?)
How do you make a Black folks soul food easy Christmas dinner menu?
From the rooter to the tooter, as old Black folks might say. Meaning from the snout to the tail – my secret to an easy soul food Christmas dinner is Instant Pot recipes.
From the turkey leg to the oxtail, I wish everyone knew how easy Instant Pot cooking is for busy households – and hectic holiday dinners!
From a Black Folks Thanksgiving menu to a soul food easy Christmas dinner menu – Instant Pot will turn your entrees and side dishes into magical meals in minutes one-pot… straight to plate!
What are some easy soul food Christmas dinner menu ideas?
Your annual Christmas dinner doesn't have to be complicated!
This soul food easy Christmas dinner menu is the whole festive feast, but the one-pot way.
This is a collection of the best soul food recipes, from the Christmas ham to the smallest kernel of corn. Made easy with Instant Pot.
Finally, a soul food Christmas dinner that doesn't require a 4-hour nap after you cook!
Soul food Christmas dinner FAQs
Get all the answers to your soul food Christmas dinner frequently asked questions!
Click on any recipe below to get the specific answers to the most asked questions about each dish.
From "Why do you need stale cornbread?" (a legit question!) to "Can you use Jiffy cornbread?" or "Why is your cornbread dressing mushy?" and "What kind of chicken do you use for this recipe?"
All your questions answered!
So, anytime someone asks the question, "What exactly is soul food?" Tell them to start here!
Black folks soul food easy Christmas dinner menu ideas
From Black folks shrimp and grits for brunch to soul food ham in the main course and red velvet cake for dessert. Check out these delicious recipes to easily meal-plan your soul food easy Christmas dinner feast!
Southern Christmas ham recipe
Soul food Southern Christmas roast
Southern Christmas turkey
Black folks Southern fried chicken and waffles recipe
Step up your Christmas brunch game with this iconic African-American dish that originated in a Harlem supper club during the jazz era in the 1930s!
Black folks Southern turkey recipe
Pump up your Christmas food in a way that will have your family gobblin' this bird down in no time. And this bird comes with its own turkey gravy! From the beautiful broth in the pan.
Spoiler alert: Forget about having anything remaining for leftovers!
Black folks Southern smothered chicken
Black folks chicken and dressing
This is a divine shredded chicken and cornbread stuffing casserole. A yummy soul food recipe that serves justice to the African American community!
Black Folks Chicken And Dressing
Thanksgiving means Southern soul food, made by our grandmamas, mamas, and favorite aunties. A meal we've waited all year to eat!One Southern dish that you shouldn't miss this Thanksgiving is Black folks chicken and dressing.
Check out this recipe!
Black folks soul food Southern fried chicken recipe
Black folks smoked turkey legs
Hosting a smaller Christmas this year?
The perfect Christmas dinner menu doesn't have to be complicated or expensive. And turkey legs are a popular entrée to make for a Southern soul food Christmas when you don't want to cook the whole bird.
Black folks buttermilk fried chicken recipe
Air fryer fried chicken drumsticks
Need a Thanksgiving fried chicken appetizer?
Slip in this low-cal version! Air fryers allow you to cook delicious air-fried chicken without any mess or splatter caused by deep-frying. You won't even need a paper towel because there's no oil or grease!
Black folks Southern shrimp and grits
Black folks soul food lamb chops in the air fryer
Southern homemade chicken and dumplings
Black folks pineapple glazed ham
Want to serve a spiral ham for Christmas dinner? Then I gotchu!
Leftover pulled turkey recipe
If you're fortunate to have any leftover turkey, cranberry sauce, cornbread, biscuits, or yams, here's what to do with it!
Love easy Instant Pot side dishes?
Check out this Instant Pot easy Christmas dinner menu for the best soul food side dishes!
Black folks' fresh cranberry sauce
Forget those canned alternatives. This fresh cranberry sauce is made from all-natural and soul food spices. So delicious!
Black folks Southern baked mac and cheese
Macaroni noodles boiled in a milk bath, tossed in a creamy cheese sauce, seasoned, and then baked until brown and crispy around the edges!
Soul food lobster mac and cheese
Black folks creamed corn pudding
Made from the highest quality ingredients available – buttery homemade cornbread, fresh sour cream laden with melt-in-your-mouth Parmesan cheese!
Black folks' cornbread dressing recipe
This Southern dish is made of fluffy cornbread, fresh herbs, and veggies cooked with plenty of butter, broth, and egg.
Old-fashioned Southern cornbread dressing
This turkey dressing recipe is full of rich buttery flavor, seasoned to perfection with aromatic herbs, and infused with chicken or turkey stock.
Southern cornbread dressing with chicken gizzards
Southern oyster dressing recipe
Oyster dressing is one of the most unique and delicious soul food recipes. The perfect side dish to show up at your next holiday gathering.
Southern liver and dressing
With its rich history of family, feasts, and festivities, Thanksgiving calls for a menu that speaks to the soul. And what better way to celebrate the season of gratitude and gatherings than with a classic Southern delicacy – Southern liver dressing recipe?
Black folks Southern green beans
Tired of bland green beans all the time?
Instant Pot Southern green beans recipe brings life back to this boring dish! In just 2 minutes, these soul food seasoned veggies are ready for your Thanksgiving dinner table!
Black folks brown sugar-glazed carrots
Brown sugar-glazed carrots are the simplest way to get your guests to say, "Wow." Just add some thyme, salt, pepper, chicken stock, and butter to bring out the best of this vegetable! You'll be like, "Wow, carrots! I didn't know you had that in you!"
It doesn't get more southern than creamed corn! That's why Southern creamed corn is a nostalgic dish. The essence of warmth and home cooking.
Black folks' Southern cabbage recipe
Black folks collard greens
Without a doubt, Black folks' collard greens are one of the most flavorful and hearty vegetables on earth! It's like eating Black excellence.
Black Folks Southern candied yams with marshmallows
Fall in love with something new this year – Black folks' Southern candied yams! These sweet babies are perfect for winter or fall. A side dish – kinda like a Southern dessert!
Is it a dessert or a side dish? Let these delicious Black folks' baked apples be the conversation starter at your next Thanksgiving feast!
Black folks' creamy mashed potatoes recipe
Black folks' Southern potato salad recipe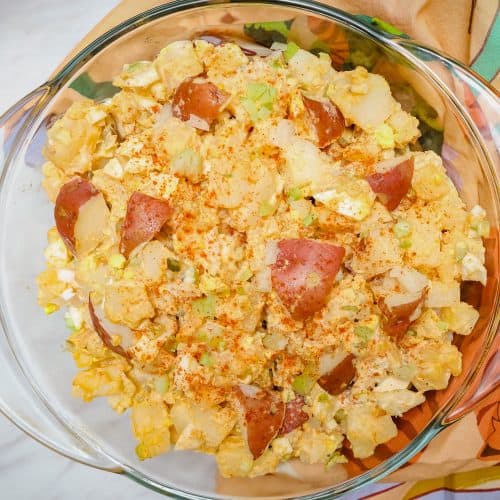 Black folks' soul food macaroni salad
Black Folks Soul Food Macaroni Salad
How do you make Black macaroni salad?Black folks' soul food macaroni salad includes flavorful ingredients like sweet carrots, savory onions, and diced celery. Plus, mayo, mustard, and seasonings like thyme, celery salt, and cayenne pepper pack a delicious punch with a tiny touch of sweet heat!
Check out this recipe!
Soul food red beans and rice
Black Folks Soul Food Red Beans And Rice
Experience the rich taste of soul food by way of a simple yet flavorful staple dish. Black folks' soul food red beans and rice. A dish that will make your mouth water when you smell the aroma of savory seasonings and spices as the red kidney beans soak in the rich flavors of this dish!
Check out this recipe!
Black folks black-eyed peas
A Black folks' New Year's holiday tradition!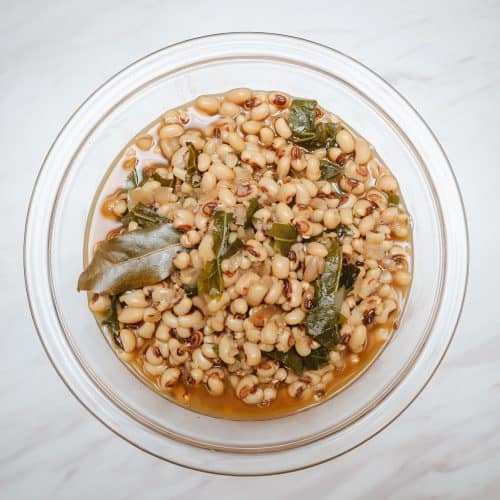 Southern Black Eyed Peas
Soul food Southern black eyed peas are intensely flavored in a thick sauce with smokey & spicy seasonings. Warm, comforting, & flavorful good luck you can eat for prosperity in the New Year!
Check out this recipe!
Soul food Southern deviled

eggs recipe
Best soul food cornbread recipes
Trading in dinner rolls or buttermilk biscuits for buttermilk cornbread this Christmas?
Then check out these Christmas cornbread recipe ideas!
Black folks homemade cornbread
What would a Southern soul food feast be without the cornbread, y'all?
Making the cornbread for this recipe from scratch?
Yep! So you won't need Jiffy Corn Muffin Mix here! From its thinly crisped edges to the chewy center, this skillet-baked bread is waiting for you to savor!
Cornbread recipe with corn
Cranberry sauce cornbread
It's the best of both worlds with this recipe! A combination of Black folks' fresh cranberry sauce and Black folks' homemade cornbread.
Also, check out this recipe for how to make fresh cranberry sauce even easier in an Instant Pot!
Easy Christmas dinner menu: soul food desserts
The same classic Southern soul food desserts – with a new contemporary twist!
From Black folks banana pudding and Instant Pot banana pudding made from scratch. Strawberry pretzel salad – also known as strawberry pretzel pie.
Here's a list of Black folks' easy Christmas dinner menu favorite desserts.
Black folks Southern red velvet cake
Why not wow the crowd with a classic Southern dessert– Black folks red velvet cake!
Christmas sweet potato pie recipe
Black folks Southern bread pudding
Black folks Southern soul food carrot cake
Black folks Southern banana pudding
Sure, you've had banana pudding before. But this is different because it's banana pudding the Black way! (Yes, with cream cheese!)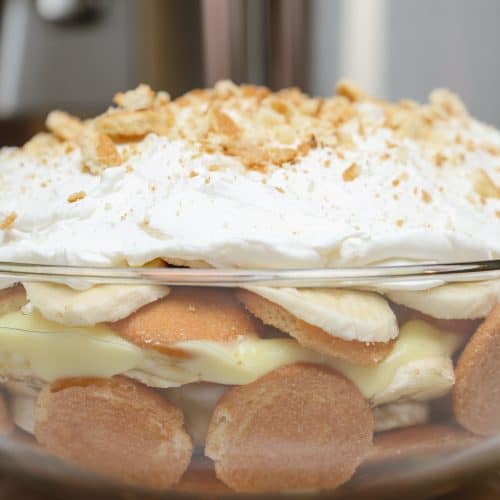 Black folks chocolate Southern banana pudding
Instant Pot banana pudding made from scratch
Black folks sweet potato pie
Black folks deep-south sweet potato pie is somewhere between a Southern candied yam and an old-fashioned gingersnap!
This ain't no humble pie!
A purple sweet potato pie is a stark contrast from the traditional Thanksgiving hues of brown and orange. This pie is bright purple, so if you want your dessert this year to stand out from the crowd – make it a Black folks' purple sweet potato pie!
Southern sweet potato pie
Soul food almond flour pie crust
An almond flour pie crust is so easy to make, just like a regular pie crust. Even if you don't have any baking experience at all, trust me, you'll be able to whip this up in minutes!
Black folks Southern peach cobbler recipe
Black folks Southern pecan pie recipe
Strawberry Pretzel Salad
Strawberry pretzel salad combines strawberries with crunchy pretzels and cream cheese whipped topping. This Southern dessert is a great way to use up some of the strawberries that are in season now!
Check out this recipe!
Black folks Southern tea cakes
Pillsbury mini Christmas wreaths
Soul food Christmas cocktails & drinks
Traditional Christmas eggnog
Black folks moscato sangria recipe
Black folks soul food homemade eggnog
Black folks Hennessy & Puerto Rican eggnog (Hennessy coquito)
Red Southern hibiscus sweet tea
What do you think about this soul food easy Christmas dinner menu?
Would these recipes work for you?
Which ones have you added to your easy Christmas dinner menu?
If you like this recipe roundup, then you'll love this best soul food cornbread recipe roundup HERE.
More Southern food and Black folks recipes to love:
Like this post? Pin the below picture to your "Soul Food Recipes" Pinterest Board!