81 Soul Food Mother's Day Dinner Ideas
Southern soul food Mother's Day dinner ideas – Are you asking yourself, "What is a good menu for Mother's Day?"
Or, how can you make your mom or wife feel special on Mother's Day?
You're in the right place for soul food Mother's Day dinner ideas that don't skimp on seasoning and flavor – because mom never skimps on you!
How can you make Mother's Day special?
Prepare mom a special Mother's Day dinner of Southern soul food dishes. You can make the best ever Mother's Day recipes in minutes with help from these soul food Instant Pot recipes.
What food do you eat on Mother's Day?
I've gotchu! With a soul food Mother's Day menu list of the best soul food recipes, side dishes, and Southern desserts that are beautiful and delicious. Pleasing to mom's eyes and her tummy!
And the best part about these recipes?
They're mostly for the Instant Pot, so you'll have a magical meal in minutes!
What's the difference between soul food and Southern food?
Southern food can be described as down South, home-cooked comfort food recipes where you can taste the hospitality.
But soul food goes way beyond Southern cooking.
Soul food is all about seasoning to perfection. The flavor! A legacy of how African Americans prepare food. The Black way.
What is a traditional Southern meal?
A traditional Southern meal, the soul food way, might include a seasoned Southern turkey, baked chicken, or a brown sugar glazed ham with side dishes like soul food collard greens, Southern baked macaroni and cheese, a Black folks' potato salad recipe, or candied yams.
What recipes do you wish your mom or grandmother had passed down to you?
If there's a recipe you wish was passed down. You can start a new tradition and impress mom with any of these classic soul food recipes today. Step by step, quick and easy to make.
From Southern banana pudding the Black way to sweet potato pie. These soul food recipes are mom, grandma, and auntie approved!
Authentic soul food recipes so good. Mom will think you brought carry-out from her favorite soul food restaurant!
How can you get started making soul food at home for Mother's Day?
Start here! With this list of my most popular and easy Mother's Day recipes – easy enough for anyone to make. And every mother to love!
The best soul food Mother's Day dinner ideas
Black Folks Soul Food Air Fryer Southern Fried Chicken
Do air fryers work for soul food Southern fried chicken? Yes, and you won't believe how good and crispy chicken is when it's air fryer Southern fried chicken! A soul food Southern fried chicken recipe is a unique, flavorful dish that Black folks created and perfected - and here's how to cook it in an air fryer!
Check out this recipe!
Soul Food Lobster Tail Recipe
How to steam soul food lobster tails:Whipping together a Cajun garlic butter sauce & steaming soul food lobster tail in the Instant Pot is as easy as 1 minute! You may find yourself rereading the instructions thinking it can't be that easy!
Check out this recipe!
Is gumbo considered soul food?
Yes, gumbo is a soul food-inspired New Orleans Cajun dish.
Mother's Day soul food dinner sides
What are good soul food sides?
Any of these easy soul food Sunday dinner side dish recipes.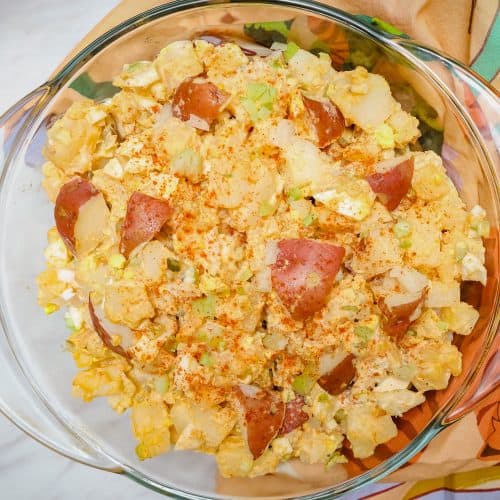 What is the most famous Southern dish?
The darling of the South. Collard greens!
What are the most popular soul food dishes?
Start here with this soul food family favorite – baked mac and cheese!
Why is mac and cheese considered soul food?
Enslaved African American chef, James Hemings' legacy of baked mac and cheese continued long after the Emancipation Proclamation in the 1860s.
Today macaroni and cheese has significant cultural meanings and multiple identities in the Black community.
Black Folks Chicken And Dressing
Thanksgiving means Southern soul food, made by our grandmamas, mamas, and favorite aunties. A meal we've waited all year to eat!One Southern dish that you shouldn't miss this Thanksgiving is Black folks chicken and dressing.
Check out this recipe!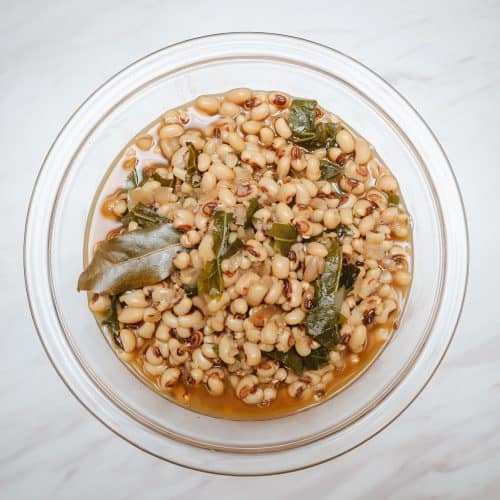 Southern Black Eyed Peas
Soul food Southern black eyed peas are intensely flavored in a thick sauce with smokey & spicy seasonings. Warm, comforting, & flavorful good luck you can eat for prosperity in the New Year!
Check out this recipe!
Southern Soul Food Tomato Watermelon Salad
Add to the menu a tangy and sweet Southern soul food tomato watermelon salad for your next outdoor BBQ party!Summertime is all about the refreshing flavors of juicy watermelon and tangy tomatoes. This recipe for tomato watermelon salad with feta cheese, pickled onions, pickled peppers, and zesty cilantro is a classy Southern dish, perfect for any occasion!
Check out this recipe!
Soul food Mother's Day dinner desserts
When you think of traditional soul food desserts, banana pudding is the first dish that comes to mind.
But how did a traditional English country dish become one of the most beloved soul food recipes and Southern dishes?
Pure bliss, and also known as soul food – banana pudding has a Southern identity that stretches back more than half a century.
This dish became quintessentially Southern, probably due to the source of where it was primarily being prepared, providing the South with a more extraordinary claim to the dish!
Black Southern banana pudding is an elevated version of the Americanized English trifle. This layered homemade custard dish was reimagined to perfection by African-American cooks in the South.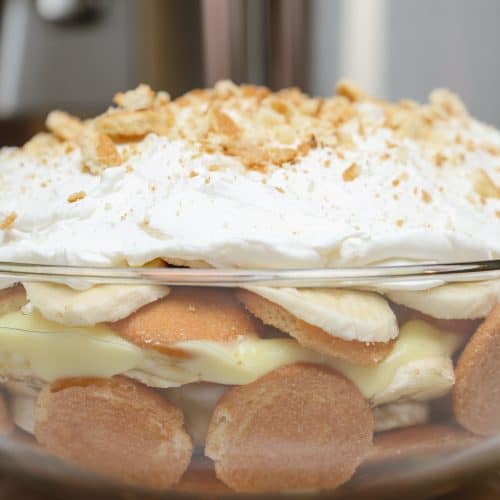 Soul Food Almond Flour Pie Crust
What's the story of soul food and almond flour pie crust?Almond flour has a Black folks' history and soul food legacy.Black cooks in the South used to bake with almond flour because they didn't have access to traditional flour. The result was a moister, richer, and softer baked good!
Check out this recipe!
Southern Red Velvet Cake
Red velvet cake is considered to be soul food of the South! A Black folks' Southern red velvet cake is a made-from-scratch decadent red sponge cake with homemade cream cheese frosting. A cake that's just sweet enough to be irresistible!
Check out this recipe!
Soul food Mother's Day brunch ideas
So why stop at dinner?
Surprise mom with her favorite Southern dishes from this soul food Mother's Day brunch menu.
Black Folks Pork Jowl Bacon In The Air Fryer
Pork jowl or hog jowl is a Black Folks soul food staple served on New Year's Day with black-eyed peas, cornbread & collard greens. This recipe is a contemporary soul food recipe for pork jowl. A new twist on an old classic, cooked quicker, easier, and still to perfection in the air fryer!
Check out this recipe!
Is Cajun a Black food?
Cajun cuisine is a style of cooking developed by the Cajun–Acadians who were deported from Acadia to Louisiana during the 18th century. They incorporated West African, French, and Spanish cooking techniques into their original cuisine.
Cajuns today are commonly White, and Creoles are Black or mixed race. Creoles tend to come from New Orleans, while Cajuns populate the rural parts of South Louisiana.
So overall, Cajun food has soul food and Black people influences.
Does mom get excited for deviled eggs?
Don't forget about happy hour on Mother's Day!
Mother's Day soul food sangria or a boozy Florida Dole Whip make for the perfect Sunday brunch beverage!
Black Folks Moscato Sangria
Black folks like sweet recipes, so it's no wonder that we've signed on for this fruity and often sparkly Italian wine. And like we always do, started creating our own Black folks' recipes - like moscato sangria!#BlackFolksSwag
Check out this recipe!
Soul food Mother's Day dinner FAQs
What foods did African Americans invent?
Black folks didn't invent chicken. We just perfected seasoning it!
But we are responsible for many favorite American recipes such as:
Just to name a few. All soul food recipes created by Black people!
How did soul food start?
'Soul' is the word used to describe the swag and unique style of African-American cuisine. You know. The flavor.
The term "soul food" may have first been used in the 1960s during the civil rights movement.
In 1962, Sylvia Woods opened her iconic soul food restaurant Sylvia's in Harlem, NY. Sylvia is known by many people today as "the queen of soul food."
What do you eat for Black history month?
Honor Black culture with African American recipes and cuisine!
What's a good side dish for fried chicken?
Several soul food recipes are favorites when serving Southern fried chicken:
Are grits considered Southern food?
Yes! Made from ground corn, grits are as Southern as cornbread and collard greens!
What are the top 10 comfort foods?
Looking for Southern comfort food recipes and ideas as part of your soul food Mother's Day dinner?
Then you'll love these warm and cozy soul food meal ideas for the week. Instant Pot quick and easy meals anyone can make and everyone will love!– Start here!
What do you think about these soul food Mother's Day dinner ideas?
Have you had a soul food Mother's Day dinner?
Would you make it?
Comment below and lemme know. Then subscribe HERE for all the soul food!
What is a typical African American meal?
Want more African American soul food meals? Then you may also like these favorite Black folks' recipes: