63 Southern Tailgate Food Recipes With Soul Food Flavor
We're breaking out our best Black folks' tailgate food roster on this game day with these insanely delicious and hearty Southern soul food tailgate recipes!
These game-day food classics and new delicious ideas will spice up your tailgating menu, from easy appetizers to hearty meat dishes, sweet desserts, and finger-licking dips.
Why is it called tailgate food?
In American football, the stadium parking lot is called the tailgate lot.
The concept of tailgating is to have a picnic before the game. People used this concept and started eating at the stadium before the game. Since the food is consumed in a tailgate lot, it's called tailgate food.
Is tailgating an American thing?
Tailgating is a way of life for many people in the United States. It's a way for people to socialize by dining outside in the stadium parking lot.
Thus, food culture in the United States has been influenced by tailgating at the stadiums.
What is an HBCU tailgate event?
HBCUs are historically Black colleges and universities founded with the mission of educating African American students.
Historically, HBCUs are also higher learning institutions for African Americans, embodying Black culture and Black excellence.
HBCU tailgating is an event (mainly in the fall and spring) that encourages students to come together for food, fun, music, and fellowship through the best classic soul food recipes and Southern grilled foods.
For most HBCUs, tailgates are usually sporting events, but others are centered around the arts and culture.
How do you have a good tailgate party?
The essentials include:
Food

Family & friends

Music

Team color attire or decorations

Countertop appliances or a grill
Pro tip: Serious tailgaters will also say you need an electric generator!
With the above essentials, there's nothing like a collegiate HBCU cookout or Southern tailgate food party with people you know, things you love, and as much food as you can eat!
HBCU tailgates are traditions that are unique, dynamic, and varied. An event that promotes unity, bonding, and fellowship among students, alums, and friends of the HBCU.
Tailgate parties bring friends and family together to enjoy the festive atmosphere and share their passion for their favorite teams.
It's a great way to do the traditional pre-game food and drink while having the most fun and fanfare together.
What is good football food?
Because game day food is the main attraction of pre-kickoff, you don't have to set up tents on your front lawn to host or have a good time.
You can, however, include these Southern tailgate food recipes. A mix of classic Southern dishes with new takes like soul food seasoned air fryer BBQ chicken, Instant Pot Southern low country boil, grilled soul burgers, or a slow cooker easy gumbo recipe.
Can you grill on your tailgate?
Grilled foods and cookout recipes were traditionally at the heart of any Southern tailgate food party.
How do you tailgate without a grill?
Today, with innovative appliances that travel well to keep food warm, like Instant Pots and air fryers, tailgate food does not necessarily have to be prepared on the grill.
What food is good for tailgating?
Since tailgating is a type of game day party where people get together before the game with the food as the center point of the get-together, the food should be easy to eat and carry in an outdoor setting.
That's why finger foods and foods you can easily scoop into a paper cup or bowl are often best for tailgating recipes.
What is considered a finger food?
Small, individual portions of food that are eaten out of hand and ideally do not create a mess and do not require utensils such as knives, plates, and forks.
Finger foods are optimal for tailgating because they're easy to eat while standing up.
What are 5 finger foods?
Burgers

& sandwiches

Hot dogs

Fruit
What should you bring to a tailgate party?
Check out this list of the best Southern tailgate food ideas.
Southern tailgate drinks
Black Folks Southern Sweet Tea
Southern sweet tea is a delicious blend of refreshingly sweet and tangy flavors. (Mostly sweet flavors when it comes to making Black folks Southern sweet tea!)But sweet ice tea is more than just a thirst-quenching beverage – it's a symbol of Southern hospitality and good company, and it's enjoyed throughout the deep South all year."All that sweet tea and cobbler!"
Check out this recipe!
Black Folks Moscato Sangria
Black folks like sweet recipes, so it's no wonder that we've signed on for this fruity and often sparkly Italian wine. And like we always do, started creating our own Black folks' recipes - like moscato sangria!#BlackFolksSwag
Check out this recipe!
Wakanda Food Vibranium Drink Recipe
Join the kings and queens of Wakanda and take in African flavor-packed meals of Wakanda Forever food!
Starting with the purple juice of the ancient Heart-Shaped Herb known to give strength to the legacy of Black Panther kings. This is the recipe for vibranium drink!
Check out this recipe!
Fruit Infused Water
What is fruit infused water? Fruit infused water, detox water, also called fruit flavored water is any combination of fruits, veggies or herbs immersed in drinking water.
Check out this recipe!
Southern tailgate food appetizers
Grilled Fruit Recipe Roundup
How to grill fruit - 4 easy grilled fruit & veggie recipes to try today!1. Turmeric & smokehouse honey grilled corn2. Balsamic, mint & feta grilled watermelon3. Olive oil & sea salt grilled avocado4. Cinnamon & honey grilled pineapple
Check it out!
How to Make A Charcuterie Board
Charcuterie boards, by definition, have cold cuts or meats. Your boards don't have to include meats; you can have holiday treats, breakfast food, desserts, candy, hot chocolates, dinner food or s'mores, to name a few creative charcuterie board ideas.
Check out this recipe!
Southern tailgate food main dishes
Steve Harvey Easy Homemade BBQ Sauce
Steve Harvey shares his easy homemade BBQ sauce recipe.This Southern BBQ sauce is perfect for slathering your favorite meats for Memorial Day, 4th of July, Labor Day, or any other holiday! You'll have enough leftover sauce to store in a mason jar and share!
Check out this recipe!
Southern Cheddar Ranch Burgers
Southern cheddar ranch burgers - Instant Pot burgers are effortless, like so many Instant Pot ground beef recipes.Put 'em in the pot, walk away, and return to serve up major deliciousness! Perfect today for a dining-out-like experience served comfortably at home.
Check out this recipe!
Curry Chicken Mango Kabobs
Curry chicken mango kabobs are the perfect summer appetizer - or main dish- no matter what type of event you're hosting!The flavor combination of sweet and savory chicken with mango, red onion, cilantro, and bell peppers all skewered together on wooden or metal skewers make a fantastic appetizer or main course for your next friend's and family get together!
Check out this recipe!
Easy Gumbo Recipe
Nothing's more Louisiana than gumbo! A classic Southern dish and culinary staple in The Big Easy.
This easy gumbo recipe is Cajun cooking combined with Creole seasoning & spicy Thai flavors – served over rice and pressure cooker ready in only 15 minutes!
Check out this recipe!
Southern Stuffed Peppers
This Southern stuffed peppers recipe may seem like a fancy dish at first glance – but take another look… They're an old-fashioned Southern meal homemade with ingredients you can easily find in your pantry!
Check out this recipe!
Southern tailgate food sides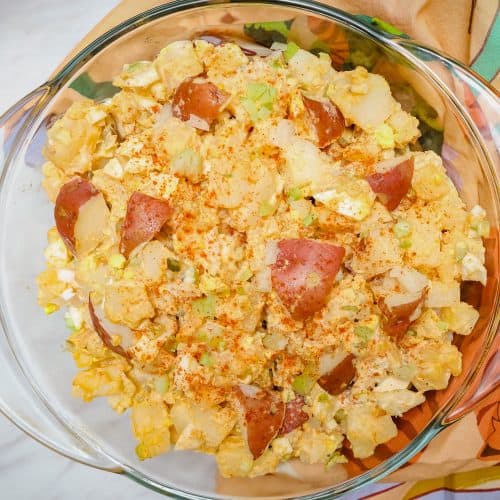 Black Folks Soul Food Macaroni Salad
How do you make Black macaroni salad?Black folks' soul food macaroni salad includes flavorful ingredients like sweet carrots, savory onions, and diced celery. Plus, mayo, mustard, and seasonings like thyme, celery salt, and cayenne pepper pack a delicious punch with a tiny touch of sweet heat!
Check out this recipe!
Southern Soul Food Tomato Watermelon Salad
Add to the menu a tangy and sweet Southern soul food tomato watermelon salad for your next outdoor BBQ party!Summertime is all about the refreshing flavors of juicy watermelon and tangy tomatoes. This recipe for tomato watermelon salad with feta cheese, pickled onions, pickled peppers, and zesty cilantro is a classy Southern dish, perfect for any occasion!
Check out this recipe!
Black Folks Soul Food Red Beans And Rice
Experience the rich taste of soul food by way of a simple yet flavorful staple dish. Black folks' soul food red beans and rice. A dish that will make your mouth water when you smell the aroma of savory seasonings and spices as the red kidney beans soak in the rich flavors of this dish!
Check out this recipe!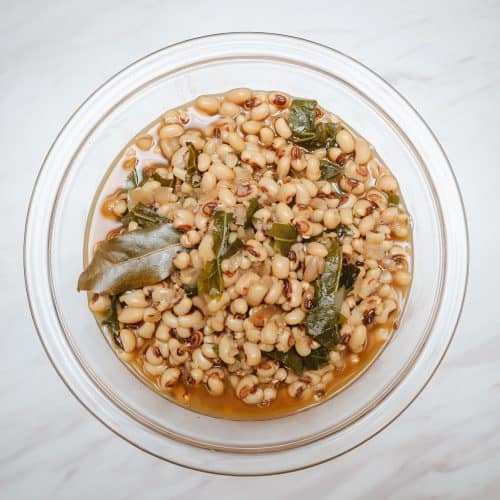 Southern Black Eyed Peas
Soul food Southern black eyed peas are intensely flavored in a thick sauce with smokey & spicy seasonings. Warm, comforting, & flavorful good luck you can eat for prosperity in the New Year!
Check out this recipe!
Southern tailgate food desserts
Southern Soul Food Pig Pickin Cake
What is a Southern soul food pig pickin cake? It's a homemade, moist yellow cake with whipped pineapple frosting, vanilla pudding & sweet mandarin oranges baked in. Pig pikckin is a one-of-a-kind cake as unique as its name and the official dessert of Southern pig roasts and pig pickins!
Check out this recipe!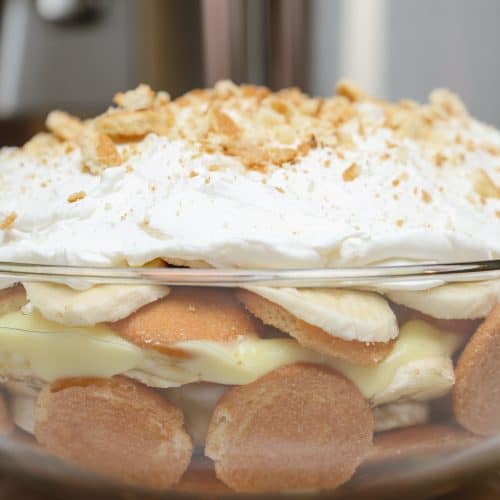 Southern Red Velvet Cake
Red velvet cake is considered to be soul food of the South! A Black folks' Southern red velvet cake is a made-from-scratch decadent red sponge cake with homemade cream cheese frosting. A cake that's just sweet enough to be irresistible!
Check out this recipe!
Soul Food Southern Apple Pie Recipe
What makes this apple pie a Southern soul food specialty?The flavor! This soul food apple pie recipe features fresh apples sweetened with brown sugar and spiced with a blend of cinnamon and nutmeg. Seasoned to perfection, the apples are roasted and then baked in the pie to leave you reminiscing on the best Southern dinners!
Check out this recipe!
Southern Ambrosia Recipe
Ambrosia salad is a
Southern dessert
made with tropical and citrus fruits like mandarin orange, pineapple, and shredded coconut. While ambrosia of the gods bestowed immortality on all who ate it. Human ambrosia simply bestows a very divine and refreshing taste after fried chicken and potato salad!
Check out this recipe!
Black Folks Southern Tea Cake Recipe
What are Black folks tea cakes?An African American Southern dessert, Black folks tea cake is a sweet little biscuit. Light, airy, and sometimes compared to soda bread or pound cake. Tea cakes are a traditional African American treat that dates back to the 1600s.
Check out this recipe!
TikTok Booty Dip Recipe
TikTok dessert recipe for Booty Dip: An easy, no-bake chocolate chip marshmallow dip perfect for all holidays made by simply mixing cream cheese, brown sugar, whipped cream, marshmallow fluff and chocolate chips. AKA: Big Booty Dip!
Check out this recipe!
Southern tailgate food FAQs
What is the most popular tailgate food?
Tailgate food is always a big topic of conversation among sports fans. So many people go to the game just for the food!
The most popular tailgate food is barbecue. Of course, hot dogs and hamburgers are also prevalent. But anything BBQ'ed is sure to be the first pick!
What is the most eaten food on Superbowl Sunday?
Hands down chicken wings- or should I say hands filled with chicken wings? Americans consume over 1.5 billion wings on Superbowl Sunday!
What are the 5 most popular Superbowl foods?
Guacamole

Chips & salsa

Chili
How do you keep food warm at a tailgate?
What's the worst thing to happen at a tailgate?
Nobody eats because there are lukewarm hot dogs, hamburgers, and cold chicken wings!
Wondering how you heat food at a tailgate?
If you're a tailgater, here are a few solutions to keep your food warm throughout the party.
Make sure you use disposable foil and trays to insulate your food through transport.

Use an Instant Pot, Crockpot, or air fryer appliance to keep food hot at home or your tailgate if you have electricity.

Coolers can also keep hot food hot by trapping and retaining heat.
What is American tailgate food?
American tailgating is about having fun with friends and family while enjoying delicious food and drinks.
There are plenty of American tailgate party foods to choose from, so you can easily find something to please everyone, especially among these flavorful soul food Southern tailgate food recipes!
What's your favorite tailgate food recipe?
Comment below and lemme know.
Then subscribe HERE for all the soul food!
Equipment
Instant Pot electric pressure cooker

(optional)

Air fryer, Instant Pot Omni Plus oven/air fryer, or conventional oven
Ingredients
12

chicken wings

2

tablespoons

seasoning salt

Famous Dave's Country Roast Chicken Seasoning or similar (Contains soulful flavors such as paprika, mustard seed, garlic powder, onion powder, bell pepper, and lemon zest all in one!)

2

tablespoons

garlic & herb seasoning

Weber Seasoning Roasted Garlic & Herb, or similar

1 ½

cups

BBQ sauce

Homemade BBQ sauce recipe HERE!
Instructions
In a small bowl, mix the chicken seasoning and the garlic & herb seasoning.

Rub the seasoning mixture on the chicken pieces to coat them.

Then use a basting brush to coat the chicken with the BBQ sauce.

Spray the air fryer basket with cooking oil, or if you have an air fryer tray or baking sheet, line it with parchment paper and then spray the paper.

Place the chicken wings in or on the air fryer basket or tray.

Air fry at 350 degrees F for a total of 30 minutes.

Halfway through, after about 15 minutes, flip the wings over in the air fryer and return to cooking.

Air fry at 350 degrees for the remaining 15 minutes.

Serve this Southern soul food BBQ chicken wings recipe right away, and enjoy!
Notes
How do you make soft BBQ chicken?
Optionally, you can use the below instructions and marinate the chicken in a buttermilk brine to tenderize it before adding the BBQ sauce.
This additional step is easiest with an
Instant Pot electric pressure cooker
.
Instructions for a buttermilk marinade chicken brine
To make homemade buttermilk, use 3 cups of milk and 3 tablespoons of apple cider vinegar. In a medium-sized bowl, stir the two ingredients together and let them sit for 5 minutes.

Open the Instant Pot lid and add the buttermilk and 1 teaspoon of salt to the stainless steel inner pot.

Add the chicken pieces, skin-side up, to the pot with the buttermilk.

(No Instant Pot? No problem! – allow the chicken to marinate in the buttermilk for 4 hours to overnight.)

Close the Instant Pot lid (make sure the valve is in the sealing position – up) and pressure cook on high for 20 minutes.

When the cooking time is finished, allow a natural pressure release for at least 10 minutes.

To open the Instant Pot lid, move the valve to 'venting' and manually release any remaining pressure, if applicable.

Remove the chicken from the Instant Pot (you can discard the buttermilk) and set the chicken pieces aside on a rimmed baking sheet to cool off to the touch.
You can make the buttermilk for this recipe yourself. Because let's be real – it's not a common pantry ingredient!
Buttermilk for this recipe:
½ cup of buttermilk = ½ cup of milk + ½ tablespoon of apple cider vinegar. Stir and let it sit for 5 minutes.
What can you substitute for the poultry and herb seasonings?
You can use your favorite all-purpose seasoning or a combination of these soul food seasonings to make 4 tablespoons.
Homemade soul food chicken seasoning:
Paprika

Mustard seed

Garlic powder

Onion powder

Red pepper flakes

Grated bell pepper

Lemon zest

Salt

Black pepper
Nutrition
Calories:
396
kcal
|
Carbohydrates:
29
g
|
Protein:
24
g
|
Fat:
20
g
|
Saturated Fat:
6
g
|
Polyunsaturated Fat:
4
g
|
Monounsaturated Fat:
8
g
|
Trans Fat:
0.1
g
|
Cholesterol:
95
mg
|
Sodium:
5476
mg
|
Potassium:
407
mg
|
Fiber:
1
g
|
Sugar:
24
g
|
Vitamin A:
338
IU
|
Vitamin C:
2
mg
|
Calcium:
40
mg
|
Iron:
2
mg